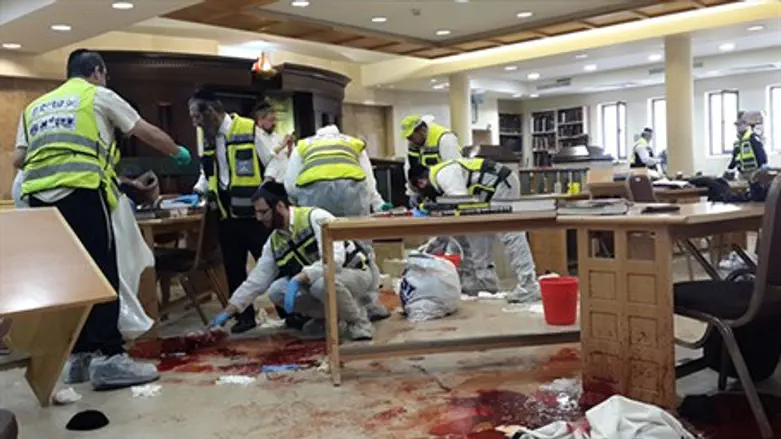 First to arrive and last to leave: ZAKA volunteers at scene of Har Nof massacre
ZAKA
"When I got the call, I just picked up my ZAKA medical kit and ran the few hundred meters from the ZAKA offices to the site of the terror attack at the Chords Bridge," recalls ZAKA Jerusalem Deputy Commander Yossi Fraenkel.
"As I was kneeling down to treat one of the most severely-injured victims, someone opened fire on the terrorist who was still slumped over the wheel in the car that he had used to mow down innocent people waiting for a bus." continued Fraenkel. "I was inches away from the bullets. That's how dangerous our work can be, because we arrive at the scene and begin treating the victims even while the incident is ongoing."
As soon as the injured had been evacuated to hospital, Fraenkel and his fellow ZAKA paramedic volunteers reversed their orange paramedic vests to display the yellow ZAKA forensic vests, literally switching from emergency life-saving duties to the painstaking and difficult task of clearing the scene in accordance with Jewish law.
"We wipe away all traces of spilled blood and remove all human remains to ensure a full Jewish burial for the victims," explains Fraenkel, a veteran ZAKA volunteer. "Depending on the nature of the terror attack, this can take many hours of work. That's why ZAKA is often the first to arrive, but always the last to leave the scene."
Fraenkel is one of the 3,000 ZAKA volunteers on call, 24/7, around the country. Most are trained MDA paramedics, able to give emergency medical aid, before turning their attention to the victims at the scene.
Dealing with an average of thirty unnatural deaths a week (terror attacks, accidents in the house and on the roads, suicides etc.), the ZAKA volunteers do much more than the name would suggest - ZAKA is the Hebrew acronym for Disaster Victim Identification.
ZAKA is active in the fields of emergency response (using motorcycles equipped with first aid and fire-fighting equipment and ATVs to cover difficult terrain), search and rescue (including specialist canine, divers, jet-ski and rappelling units) and accident prevention. ZAKA also has a joint unit with the IDF's Home Front to deal with any such emergencies, and was very active during recent military operations.
The ZAKA International Rescue Unit, which is recognized by the UN as an international humanitarian volunteer organization, has over 600 trained volunteers all around the world, including America, Europe and Asia. This is particularly relevant now, as the terror threat grows ever more global and local communities are trained and equipped to deal with mass casualty incidents before the arrival of volunteers from the Israel-based ZAKA International Rescue Unit. The volunteers have worked at natural disasters in countries such as Nepal, Haiti, Japan and Thailand and at terror attacks including Paris, Mumbai, Mombasa and Bali.
Please help us help others - donate to ZAKA now.