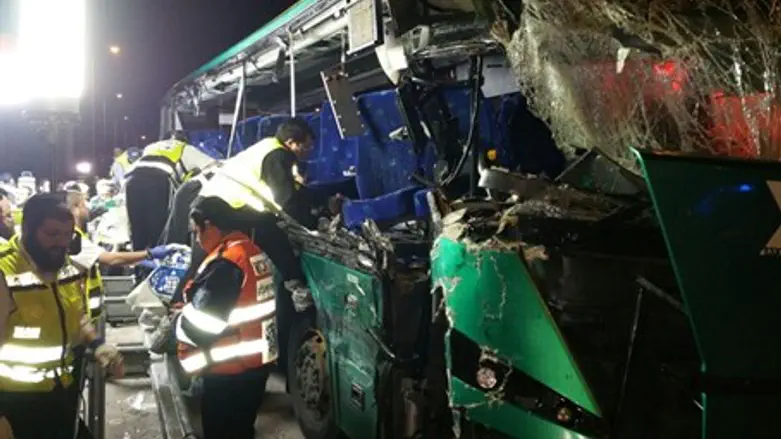 Lethal bus crash near Modi'in
Hezki Ezra
The names of three of the six people who were killed in Sunday's fatal bus crash west of Modi'in have been cleared for publication:
Ya'akov Meir Heshin, 27, a Breslev Hassid
Yisrael Weinberg, 26, a Slonim Hasid
Chaya Pasha Frenkel, 23, from Jerusalem
Levy Yitzhak Amdadi, 17, from Yavniel
The Heshin family said that Ya'akov was on his way to Bnei Brak in order to meet a potential bride. In his youth he studied at the Nadvorna Yeshiva in Bnei Brak. "He was a great guy who charmed those around him," the family members said.
Yisrael Weinberg was on his way to Bnei Brak to celebrate the wedding of his cousin but the tragic accident foiled those plans.
Chayra Frenkel's husband, who was with her on the bus, was moderately injured in the accident.
Doctors at the Assaf Harofeh Hospital in Tzrifin are continuing to treat Sarah, 20, from Jerusalem, who is supposed to be married soon and was seriously injured in the fatal accident.
Her family remains next to her in hospital and ask the public to pray for Sarah bat Dina.
ZAKA emergency services spokesperson Moti Bokchin, who was among the first to arrive at the scene of the lethal crash, recalled what he saw in a conversation with Arutz Sheva.
"The place looked like a battlefield, some of them (the victims) flew from the bus, some of them were crushed to death," he said.
Medics had noted that a number of the victims were trapped in the bus, apparently as it crushed on impact with the truck that was standing on the side of the road jutting into the lane.