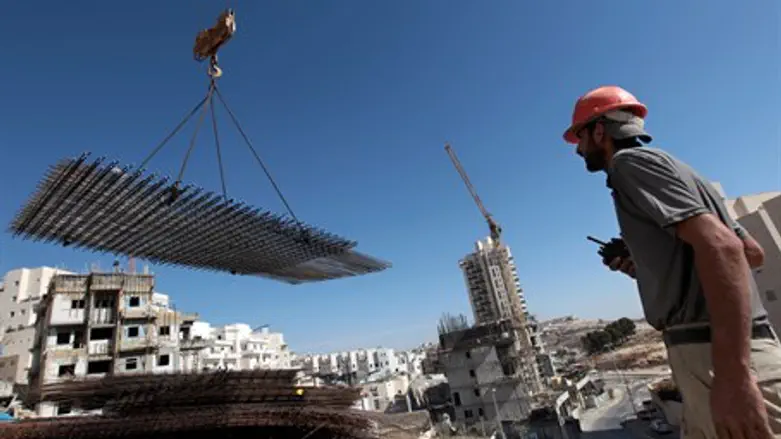 Building Site
Flash 90
According to a report published by the left-wing extremist organization "Peace Now", the government initiated 40 percent less building in Judea and Samaria in the year 2015 than they had previously. The report listed 1,800 building initiatives having taken place during 2015, as opposed to over 3,100 that took place in 2014.  
The report also mentioned that more than 70 percent of these initiatives took place in distant town and only 30 percent took place in more settled areas. Those who compiled the report said that 348 building permits were given in spite of a promise by the government to freeze building plans in Judea and Samaria. 
During 2015 a total of 63 public buildings such as kindergartens, synagogues and others were constructed, along with 42 industrial or agricultural buildings and 1,547 domiciles were built. Another 253 movable buildings were put in place over the course of the year as well. 
According to the report, "since Prime Minister Binyamin Netanyahu's 2009 term in office began, 7,683 domiciles were built which accounts for 61 percent of all the construction in Judea and Samaria." The report also estimated the number of people who can live in those homes at 35,000. "Netanyahu's government has built homes for more than 35,000 new 'settlers', which Israel will have to remove in a permanent agreement. The Israeli government, with its own hands, is creating very serious problems for achieving peace, and is establishing facts on the ground that will exact a heavy toll." 
The organization claims that three of the programs that were ratified during 2015 were the recognition of the town of El-Matan, Sansana, and Shvut Rachel. "During 2015 the government also notified the High Court of Justice, during various cases, that it plans to officially recognize the towns of  Adi Ad, Eish Kodesh, Keida, Ahiya, Mitze Dani, and Neve Erez."
The report accuses the government of sending the message of "build now and we will legalize it later" to the residents.
Director of the Judea and Samaria Council, Shilo Adler, said that the numbers that were published by Peace Now show that the government has frozen building within Judea and Samaria amid outrageous discrimination when compared with the rest of society.