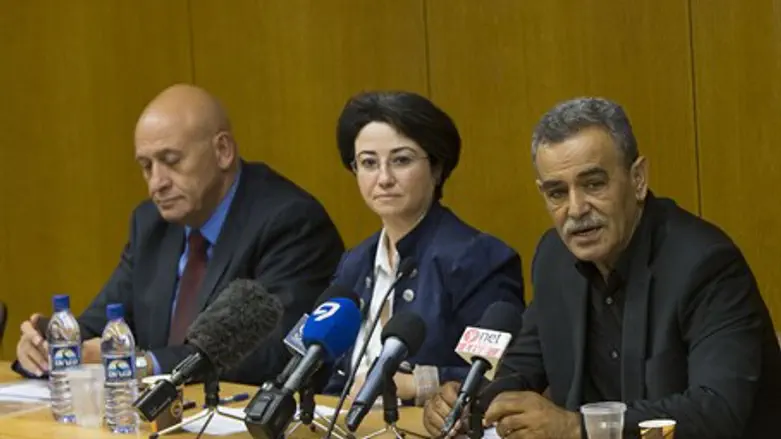 Balad faction MKs
Yonatan Sindel/Flash 90
The Knesset Ethics Committee ruled on Monday night to suspend three Arab Knesset members following a public uproar over their meeting with the families of terrorists who committed murderous attacks against Israelis. 
MKs Hanin Zoabi and Basel Ghattas were suspended for a period of four months, while MK Jamal Zahalka was suspended for two months. All three are members of the Joint List's Balad faction.  
The three Knesset members will be barred from attending the Knesset plenum until the end of the winter session, but will still be able to vote there and in committee meetings. 
In the meeting last week, the three Arab MKs comforted the families of the terrorists, who they called "bereaved families," and promised to return the bodies of the terrorists, who they termed "martyrs."
Prime Minister Binyamin Netanyahu attacked the three MKs from the Knesset platform earlier on Monday, stressing Israel's parliament would not stand for their controversial actions. 
"We are investing efforts and many resources (in promoting Arab integration)" Netanyahu declared. "But at the same time, because of this vision, we are not prepared to accept a situation in which MKs will support the families of those who murder Israeli civilians." 
"There is a limit," he added forcefully. "There is a thing called national pride." 
"I am trying to imagine what would happen in the British parliament if MPs would stand in silence for a minute in memory of 'Jihadi John' or if members of the US Congress would stand in memory of the California murderers," Netanyahu stated. "They would not accept it and we will not accept it. We will act against it."