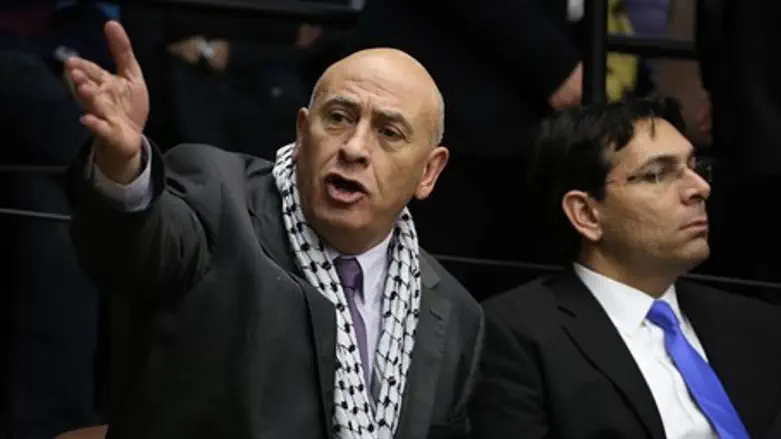 Basel Ghattas
Hadas Parush/Flash 90
MK Basel Ghattas of the Arab Joint List party defended his recent visit, along with two other Arab MKs, to the family of a terrorist responsible for the murder of three Israelis in Jerusalem
In an interview with Israeli TV late Friday afternoon, Ghattas even went so far as to describe terrorists slain while murdering Jews as "martyrs."
Ghattas dismissed the uproar over his and his fellow Arab MKs' actions as "24 hours of incitement and racism."
"There are bodies (of terrorists from) Jerusalem which have not been returned for four months already, and we were asked by the parents to intervene," he explained.
"They didn't have anyone to turn to, so they turned to us, and over the past month and a half we have spoken to whoever we needed to on the subject," Ghattas added. "I personally spoke to (Internal Security Minister) Gilad Erdan in the presence of other ministers and he assured that he would release the bodies."
When asked how he would respond if Jewish MKs met with the families of Jewish terrorists, Ghattas responded: "Ayelet Shaked met with the families of the people indicted over Duma," referring to a protest during which the Justice Minister approached relatives of the suspects in the deadly Duma arson. Contrary to his statement, however, that meeting took place prior to the indictments, during a protest outside her home over allegations that the suspects had been tortured.
"It doesn't matter which victims we're talking about, and it doesn't matter if I agree with their actions," he continued. "We as a people relate to them as martyrs. You're not touching on the root of the problem, which is the occupation."