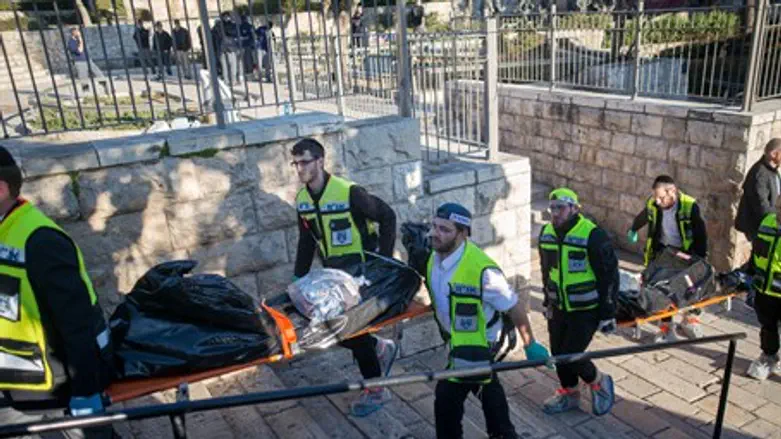 Zaka volunteers evacuate terrorist's bodies
Yonatan Sindel/Flash 90
One of the three Arab terrorists behind the deadly shooting attack at Jerusalem's Damascus Gate on Wednesday announced his intentions to carry out a terror attack nearly a month ago. 
Channel 2 reported Wednesday evening that Ahmad Zaharana posted a status on Facebook last month outlining his plans to conduct a multi-weapon attack against Jews. 
He wrote that he intended to avenge the death of one of his friends, who was killed attempting a shooting attack at a checkpoint in Gilboa several months prior. 
The post was published the same day his friend's body was returned to their hometown of Kabatiyah, near Jenin, which is considered a hotbed of incitement and terrorism. 
According to police assessments, the three terrorists who carried out the attack were not members of a known terrorist organization. Rather, they acted chiefly out of a desire to avenge their terrorist friend's death. 
All three have been identified as Palestinian Arabs from the Jenin area in northern Samaria.
19-year-old Border Police officer Hadar Cohen was killed in the shooting, and a second female officer was moderately-to-seriously injured.