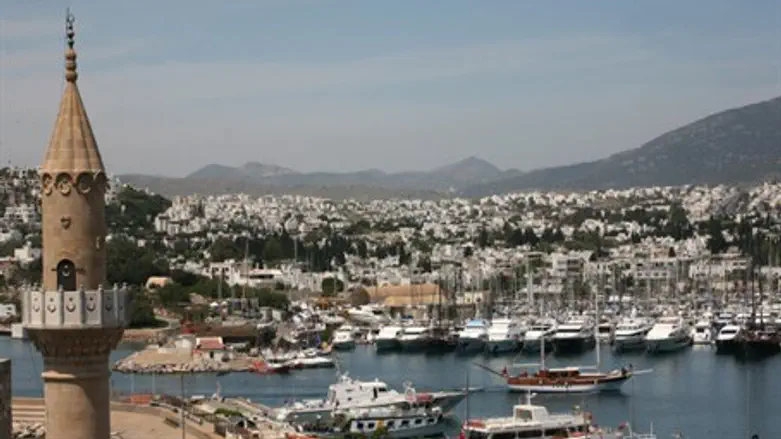 Turkey (from archives)
Flash 90
A total of 1,318 Turkish hotels along the Aegean and Mediterranean coasts have been put up for sale, due to Russian sanctions on Turkey and security concerns, reported Turkish and Russian media Tuesday.
Today's Zaman said that 410 hotels are listed for sale at the Mediterranean resort area of Anatalya, at a total sale price of TL 30 billion (about $10 billion). The remaining 908 hotels are on sale at the provinces of Muğla, İzmir, Aydın, Balıkesir, Çanakkale and Denizli, at a total of TL 8.8 billion (about $3 billion).
According to Denizli Colossae Thermal Chairman, Abdurrahman Karamanlıoğlu, some resort town hotels were brought near bankruptcy after Russia imposed sanctions against Turkey, following the downing of a Russian warplane near Turkey's border last November.
Russia advised its citizens to cancel their visits to Turkey and reintroduced a visa regime for tourism between the two countries. Travel agencies in Russia also stopped selling tour packages to Turkey, following the Kremlin's request.
"We talk the realities but officials put a brave face on the issue. We have been heavily affected from the jet crisis. Especially the hotels in Antalya; being closed for the last four months, most of those are on the verge of bankruptcy," Today's Zaman quoted Karamanlıoğlu as saying.
In January, an ISIS terrorist blew up himself killing ten tourists, most of them German, in central İstanbul – hitting the industry even harder.
Russians and Germans were the two largest national groups among tourists who visited Turkey in 2014. European tourists, mainly from Germany, have reportedly changed their preferences to Greek resorts. Turkey's tourism revenues fell 8.3 percent to $31.46 billion in 2015.
The Turkish tourism ministry reportedly expects to lose 4.5 million tourists from Russia this year. Tourism accounts for about 11 percent of Turkey's GDP.
Hotels in Antalya have already cut prices by as much as 50 percent for local travelers.
Tensions between Russia and Turkey remain high. Turkey is "closely watching" Russian troop movements in Syria near its border, a government source in Ankara said ten days ago, after reports that Russian servicemen had deployed in the Syrian border town of Qamishli.