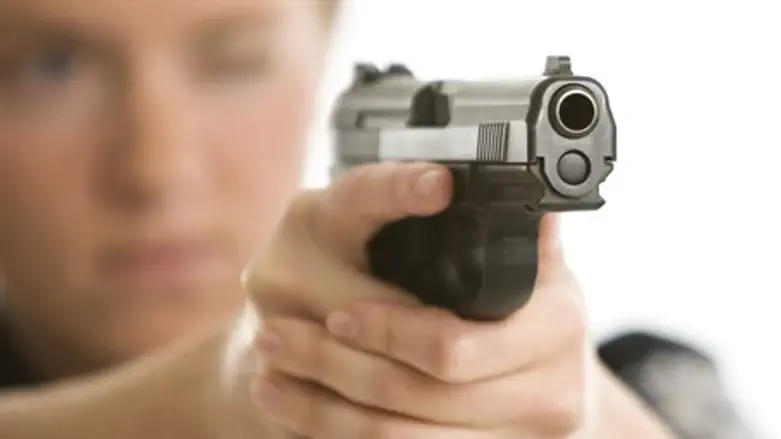 Gun (illustrative)
Photo: Thinkstock
In the middle of the Arab terror wave, a 55-year-old female Jewish resident of Jerusalem's Old City had her license to carry a handgun removed by the Internal Security Ministry, after police claimed she "prayed on the Temple Mount" in December.
The woman, Feiga Tavnes, has lived in the Old City for the past 35 years. For all of those 35 years she has held a license to carry a firearm and owned a personal handgun, and in all those years she has never been investigated or run afoul of the law.
Attorney Adi Kedar of the Honenu legal aid organization submitted an urgent petition to the Internal Security Ministry, demanding that the decision be overturned and Tavnes's weapon be returned.
In the last few months, Tavnes has been unprotected until the police announced that the appeal was received, and "after a re-examination of the matter," they found no reason why she should not hold a gun license. Tavnes has finally been re-armed and her license returned to her.
It should be noted that Tavnes was not investigated for prayer on the Temple Mount, which even if it occurred, does not constitute legal grounds for revoking a weapons permit.
Attorney Adi Keidar said, "I welcome the return of my client's gun license, however we must remember that we are dealing with civilian residents of Judea and Samaria or neighborhoods in Jerusalem, who unfortunately are exposed to daily terror attacks."
"I call on the prime minister and the appointed minister to re-examine the entire management of the Internal Security Ministry in terms of weapons licenses. I hope that until then lives will not be endangered God forbid due to this management."