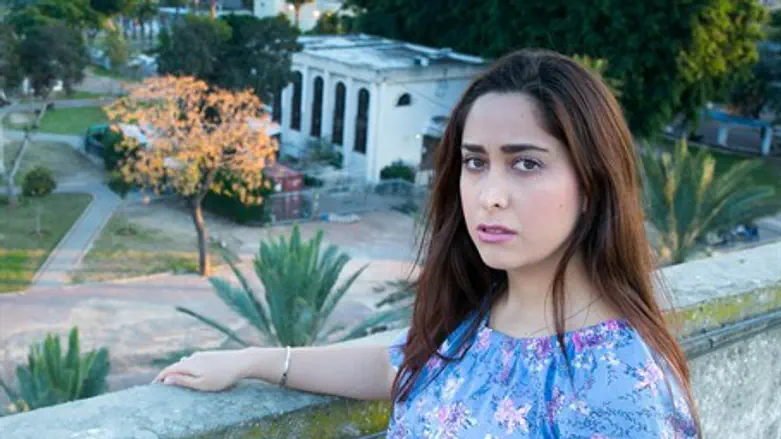 May Golan
Ofer Amram
May Golan, chairman of the Hebrew City NGO and a long time champion of the rights of residents in southern Tel Aviv which has been plagued by illegal immigrants, went down to Eilat on Thursday to spread her message to the Likud committee event Likudiada.
Golan spoke with Arutz Sheva about the materials she was passing around at the event, saying, "I came here because I wanted to remind Likud members, MKs and ministers about the occupied state of southern Tel Aviv, along with other cities conquered by the infiltrators."
Statistics from last August suggested that infiltration by Sudanese and Eritreans into Israel is on the rise again, with figures showing the overwhelming majority are job migrants. Brutal crime committed by the illegal immigrants has tragically become a common occurrence, particularly in southern Tel Aviv.
"Precisely here they should remember that people are still suffering, and the time has come for this right-wing government to find a solution," said Golan at the Likud event. "They are the ones who are forming the right-wing government that is supposed to solve the crisis of the residents for the past 7 years."
"The disaster is now at the worst situation that it could be, the infiltrators breach all laws, the know they're living above the law because nothing is being done," added the activist, who is associated with the Otzma Yehudit party.
Golan pointed out that Shas chairman Aryeh Deri's first action after being appointed Interior Minister this month was to reduce the time spent by infiltrators at the Holot detention facility.
She demanded that the MKs and ministers not forget the problem, and that they help the southern Tel Aviv residents.
Norway, Sweden, Denmark and Germany recently said they would send back illegal Eritrean migrants because they do not meet the criterion of refugees, she noted, adding, "we don't need to be more humane than Europe."
"There's a solution, to legislate a basic law and remove the infiltrators to a third country or back to their country, but not to let them get a foothold here at the rate of 7,000 births a year. At this rate not only will southern Tel Aviv not remain, but a Jewish state won't remain here."