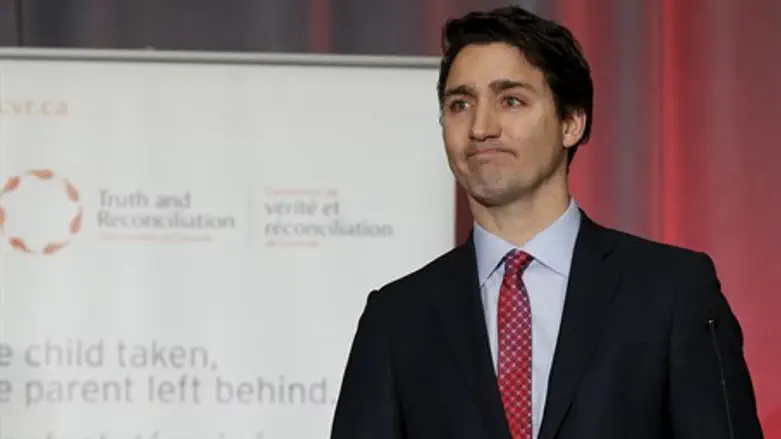 Canada's Prime Minister Justin Trudeau
Reuters
The statement Canadian Prime Minister Justice Trudeau issued Wednesday in honor of International Holocaust Remembrance Day suffered from one very glaring omission. 
The Holocaust is defined as the genocide of six million Jews at the hands of the Nazi regime and its collaborators, but in his statement, Trudeau did not mention the words "Jew" or "anti-Semitism" once.
Instead, the Liberal leader offered "tribute to the memory of the millions of victims murdered during the Holocaust," adding that Canada honors "those who survived atrocities at the hands of the Nazi regime, and welcome their courageous stories of hope and perseverance." 
Continuing, Trudeau asserted, "The Holocaust is a stark reminder of the dangers and risks of allowing hate, prejudice, and discrimination to spread unchallenged. It also reminds us that silence must never be an option when humanity is threatened." 
"As we pause to educate ourselves and our families on the bitter lessons of the Holocaust, we also strengthen our resolve to work with domestic and international partners to continue defending human rights and condemning intolerance."
In stark contrast to Trudeau, the leaders of Canada's Conservative and NDP parties made sure to mention the central victims of the Holocaust, which is commemorated internationally on the anniversary of the liberation of Auschwitz-Birkenau. 
Rona Ambrose, Canada's opposition leader, said in her statement that, "Today we remember the countless innocent men, women, and children, including six million Jews who were murdered in Nazi death camps during the Second World War.
"Sadly, today is also a day to remind ourselves that the undisguised anti-Semitism of the Nazi-era still festers in too many parts of the world – and that it can reach even into our own society, clothed in more subtle garb." 
NDP leader Tom Mulcair likewise joined in "honoring the memory of the millions of Jewish men, women and children who suffered and were murdered alongside countless others."