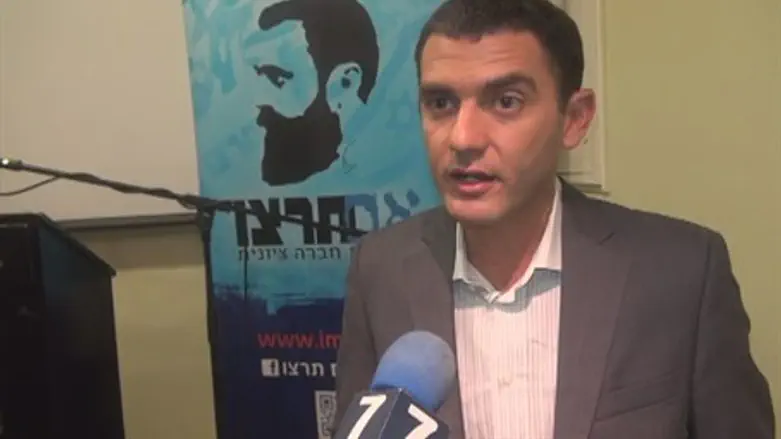 Im Tirtzu CEO Matan Peleg
Yoni Kempinski
A new campaign by grassroots Zionist movement Im Tirtzu targets "foreign agents" in the Israeli cultural scene, in response to the firestorm around Culture Minister Miri Regev's intention to make government funding for cultural endeavors conditional on loyalty to the state.
"Our cultural world is controlled by many foreign agents of the New Israel Fund (NIF) and its organizations," the group explained.
It went on to say:
"Numerous cultural councils, film funds, directors, actors, scriptwriters, playwrights and other 'people of letters' behave like a political junta, which does all it can to preserve its power and influence," the organization said.

"Whenever elected officials try to carry out the duty that the people tasked them with, in the most democratic and legitimate fashion, we encounter a campaign of vilification by the 'people of culture.'

"One day it is [writer] Amos Oz, another day it is [actress] Gila Almagor or [writer] David Grossman.  In the current round against the Culture Minister, it is [playwright] Yehoshua Sobol who stands at the forefront.

"The problem is that the same people neglect to mention the fact that they are members in organizations that are foreign implants, which are funded by foreign governments and the New Israel Fund.

"Sobol is a member of Yesh Din's board. Oz, Grossman, and [writer] A.B. Yehoshua are members of B'Tselem's board. [Musician] Sha'anan Street is a member of the board of the New Israel Fund, a US corporation."
"Since the public has the right to know these details, we will publish dozens of names of 'people of letters' who are members in various 'implanted' organizations, in the coming days. We will not allow 'implanted' groups to deceive the public," vowed Im Tirtzu.
It went on to list the names of dozens of artists who took part in activities on behalf of highly controversial organizations lie Breaking the Silence, and who sit on the boards of the NIF and its organizations.
In mid-December, Im Tirtzu released a powerful short video to accompany the shocking report it compiled, which examines 20 Israeli NGOs that receive foreign funding and are actively involved in anti-Israel activity. The campaign was followed by hidden camera revelations about the nefarious activities of Ta'ayush and B'Tselem, which were exposed by a group called Ad Kan. Together, the campaigns seem to have the far left reeling and it appears Im Tirtzu seeks to keep up the pressure.