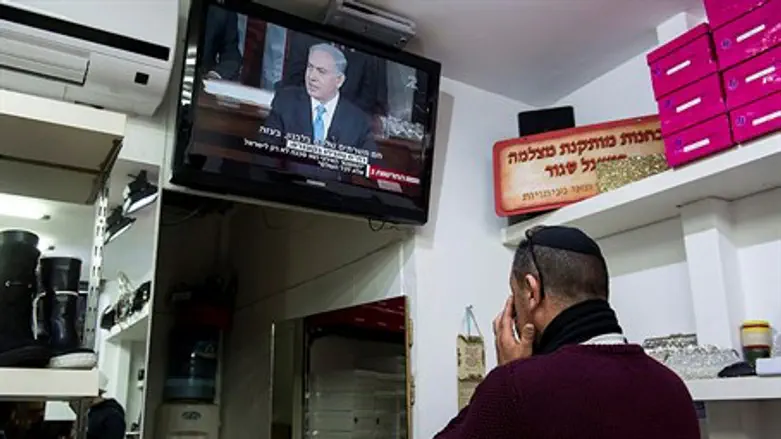 Watching TV (file)
Danielle Shitrit / Flash 90
A governmental committee has handed in recommendations that will end the leftist monopoly over news content on Israeli television.
The inter-ministerial committee under Communications Ministry Director Shlomo Filber has recommended – according to multiple news reports Monday – to end the situation in which the only channels broadcasting news are Channels 2 and 10.
Implementation of the recommendations will open up the communications market to competition and allow, among other things, an Israeli "Fox News" – that is, one or more channels that provide news content that is not liberal-leftist in nature.
The committee's reforms are extremely important in Netanyahu's eyes. He made sure to be appointed Minister of Communications himself, and placed Filber, whom he trusts, at the head of the committee. He also made all Coalition partners sign a document that states they agree to vote in favor of any reform in the communications market that he advances.
According to The Marker, Channel 20 – which is currently branded the "Tradition Channel" and broadcasts limited news content with a nationalist bent, stands a good chance of creating its own fully-fledged TV news operation.
Other possible conservative channels will not be allowed to broadcast because of limitations that forbid owners of a printed newspaper or website to also own a television channel, and other limitations regarding monopolistic "centralization." These limitations rule out Shaul Alovich, who owns the Walla website, Patrick Derhi of i24, and Sheldon Adelson, who owns Israel Hayom.
Channel 20, however, is not disqualified by these criteria. It is owned by the family of Georgian Jewish billionaire Mikhail Mirilshvili.
Israel's commercial television market is controlled by Channel 2, which holds over 60% of the market, and Channel 10, which holds an additional 20%. Multi-channel cable TV is controlled by a duopoly – Hot and Yes – with Cellcom a relative newcomer.