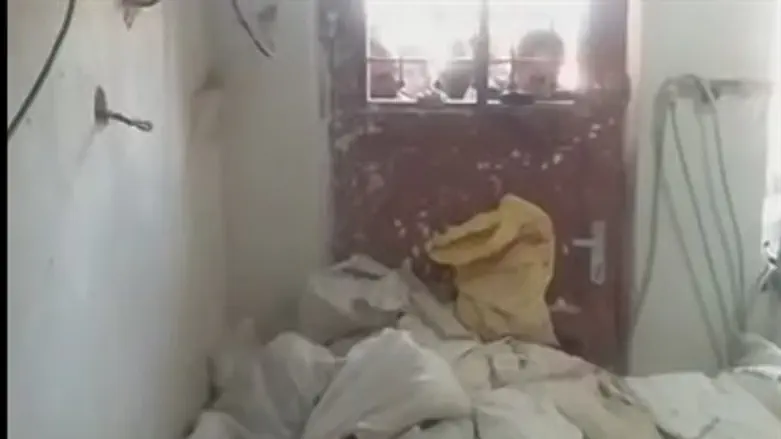 Residents barricade in during eviction
Chaverim L'shat Tzara
After security forces evicted 200 Jews on Friday morning from two buildings in Hevron, which they purchased in full from an Arab buyer and took residence of on Thursday, the Jewish community in Hevron spoke out against the move.
"The problem is that the government is conducting a policy in Hevron of anti-Jewish discrimination, and preventing Jews from any possibility to build or buy," read a statement from the Hevron Jewish community spokesperson unit.
Defense Minister Moshe Ya'alon (Likud) tried to justify the eviction on Friday in the face of an outpouring of condemnation, saying the residents "breached the law." He referred to the draconian limitations placed on Jews in Hevron, who are required to receive approval for purchases, have security clearance and also receive approval from the political echelon before buying a new home.
"In Hevron there is absolutely no possibility for Jews to develop the community due to racist reasons," charged the Hevron spokesperson. "Then when Jews succeed in buying a home, they throw them out like dogs. Unfortunately, that's the bitter truth."
"Oded Ravivi, who with God's help has building going on all the time, doesn't understand and doesn't feel the distress," the statement added, referencing the Efrat local council head who came out in defense of Ya'alon.
The council of the Jewish community in Hevron also issued a statement against the eviction, saying, "the government continues its serious and inhumane policies by preventing Jews from any possibility of developing the community in Hevron."
"At a time when Arabs are building without limitations, Jews are discriminated against in a harsh manner, and are not allowed to realize their basic human rights like the right to purchase and build, which were taken as foregone conclusions for hundreds of years."
"The eviction is a draconian and anti-democratic measure, it is a moral, Zionist and security bankruptcy, and gives a tailwind to terror," concluded the Hevron council. "We demand that the government do some self examination and change its hostile and anti-Zionist policies in Hevron and in the entire country."