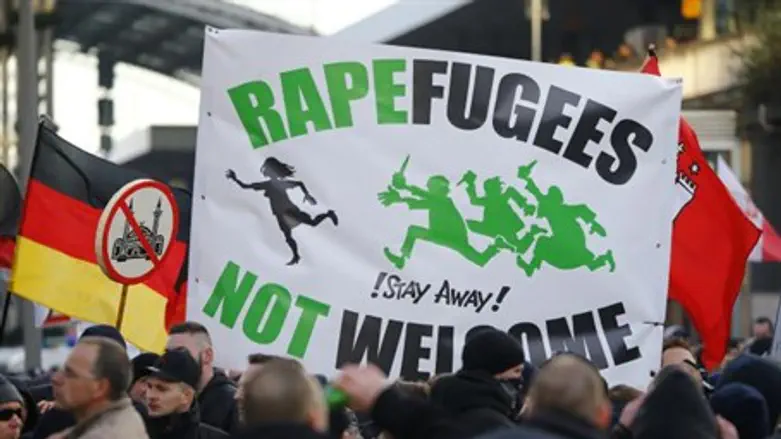 Anti-immigrant protest in Cologne (file)
Reuters
In the wake of massive sexual assaults perpetrated by Muslim migrants on New Year's Eve, and the threat of jihadists infiltrating the sudden mass influx of "refugees," Germany admitted on Thursday that it has lost track of 600,000 asylum seekers.
By the end of 2015 Germany had registered 1.1 million asylum seekers under its EASY system, that records little data other than the applicant's country of origin, reports the British Daily Mail late Thursday.
But German Interior Ministry spokesperson Dr. Harald Neymanns admitted that over half-a-million of the migrants have gone unaccounted for, raising serious concerns.
Neymanns said in some cases the migrants may have gone on to a different country in the EU. He tried to minimize the threat by noting many migrants submit more than one application and that processing delays could also account for some of the missing "refugees."
As for how many of the 600,000 are still in Germany, he said it was "almost impossible" to tell.
The shocking revelation comes as Germany is still coping from a massive wave of sexual assaults on its women on New Year's Eve, in a campaign of harassment and rapes centered largely in Cologne, but that also took place in a number of other European states, including cities in Sweden as well as in Paris.
North Rhine Westphalia, where Cologne is situated, leads Germany in migrant absorption with 21% of the intake. The capital city of Berlin stands at just over 5%.
Police in Munsterland in North Rhine Westphalia on Thursday conducted a series of raids within the context of the investigation of the New Year's sexual assaults, which the German government originally covered up for days by not acknowledging they were perpetrated by Muslim migrants.
A full 150 asylum seekers were interrogated in the police raid at two refugee centers, with police finding that many of the "refugees" claimed to be from war torn Syria, but in fact were mostly from North Africa. They also discovered every second migrant had registered at least twice on the EASY system.
No fewer than 821 complaints of criminal incidents, including hundreds of sexual assaults, have been received by police from the New Year's attack. More than 520 sexual assaults, including three rapes, took place in Cologne alone.
Imam Sami Abu-Yusuf of the Al Tawheed mosque in Cologne this week defended the sexual assailants, blaming the victims for "wearing perfume."
Germany is in fact not the only country to have potentially dangerous migrants go missing; a US State Department official admitted last month that US President Barack Obama's administration has lost track of thousands of foreigners in the US who had their visas pulled over terror suspicions.
The official, Michele Thoren Bond, assistant secretary for the Bureau of Consular Affairs, said the US had revoked over 122,000 visas since 2001, including 9,500 over terrorism concerns. She admitted to not having a clue where those who had their visas revoked currently are.