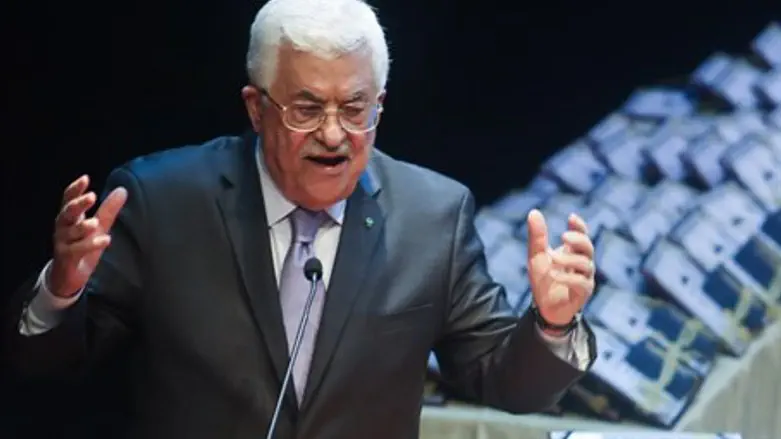 PA chairman Mahmoud Abbas
STR/Flash 90
The Palestinian Authority (PA) is continuing its diplomatic offensive against Israel and is now trying to advance a resolution in the UN Security Council that will condemn Israeli communities in Judea and Samaria and declare them illegal under international law and an obstacle to peace, Haaretz reports.
Senior Palestinian and Israeli officials cited by the newspaper said that the PA has been in contact with France, Spain and Egypt, all members of the Security Council, to get them to draw up such a resolution and support it.
Several weeks ago, PA Foreign Minister Riyad al-Maliki visited Paris, where he met with French Foreign Minister Laurent Fabius and discussed submitting such a resolution, according to Haaretz.
Fabius himself has been weighing such a move for several months, the newspaper revealed, and raised it for the first time at a meeting of the foreign ministers of the Middle East Quartet (United States, Russia, UN and EU) that took place on the sidelines of the UN General Assembly at the end of September.
France was also previously notably promoting a resolution regarding peace talks between Israel and the PA, which would set negotiating parameters and establish a time period, possibly 18 months, to complete talks.
Haaretz further revealed that ten days ago, Maliki visited Cairo and discussed the move with Egyptian Foreign Minister Samech Shoukry. Egypt recently became a member of the Security Council, replacing Jordan as a representative of the Arab world. While in Cairo, Maliki also met with Saudi Foreign Minister Adel al-Jubeir and updated him on his discussions with Fabius in Paris. Maliki asked Jubeir to pressure France to advance the resolution in the Security Council.
At the same time, PLO Executive Committee secretary Saeb Erakat met with Arab League Secretary-General Nabil Elaraby to begin discussing a draft resolution that would get Arab support. This week Maliki was in Madrid to discuss the resolution with his Spanish counterpart, according to the Haaretz report.
The newspaper further noted that Israel fears that Fabius will want to advance a Palestinian-related resolution as one of the last things he does before leaving his post in a few weeks.
Senior Israeli diplomats who recently visited Paris said that the message they got from senior French Foreign Ministry officials was that no decision has been made on submitting a Security Council resolution, neither on the Judea and Samaria nor on principles for resolving the Israeli-Palestinian conflict.
Prime Minister Binyamin Netanyahu, who is in Davos for the annual World Economic Forum, will be meeting on the sidelines of that conference Thursday with U.S. Vice President Joe Biden and will have a separate meeting with Secretary of State John Kerry. Palestinian efforts to advance resolutions in the Security Council are expected to be discussed.
Haaretz noted that the White House hasn't yet decided whether to resume involvement in the Israeli-Palestinian issue during the last year of President Barack Obama's term, as officials in his administration have admitted that reaching the "two-state solution" before Obama's term expires is unlikely.
Meetings at the White House and the State Department have come up with various proposals but Obama has yet to hold any discussions on the matter, the newspaper said.
Senior Israeli officials noted that Jerusalem fears that during his last year in office Obama may not veto a resolution on the Israeli-Palestinian issue in the Security Council, particularly given the increasing U.S. criticism of Israeli policy in Judea and Samaria. Palestinians, on the other hand, believe America will scuttle any resolution on settlements, either by pressuring member countries to vote against it, or by vetoing it.
The move marks the latest effort by the PA to embarrass Israel and have it condemned in international institutions.
In 2014, the PA submitted a resolution to the UN which called for Israel to "end the occupation" - that is, to withdraw from Judea and Samaria - by 2017.
The draft resolution would have set a 12-month deadline for wrapping up negotiations on a final settlement and the end of 2017 as the time frame for completing an Israeli withdrawal from Judea and Samaria.
The resolution was put to a vote in the UN Security Council late last year, but failed to secure enough votes in favor to pass. PA chairman Mahmoud Abbas later said he would go to the UN again and try to have a withdrawal from Judea and Samaria imposed on Israel.