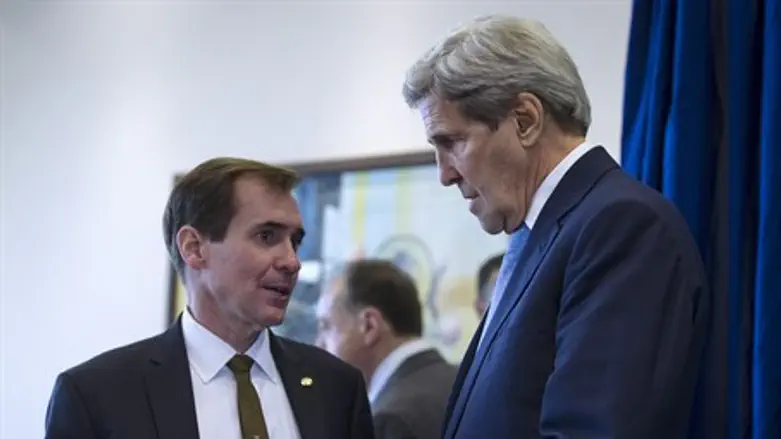 John Kerry, John Kirby
Reuters
US State Department spokesperson John Kirby on Tuesday indicated the Obama administration supports the European Union's (EU) controversial resolution on Monday, according to which EU agreements with Israel no longer apply over the 1949 Armistice lines.
Kirby's statements, in response to the questions of Associated Press reporter Matt Lee, can be seen starting at 44:50 in the video below.
"Our longstanding position on settlements is clear. We view Israeli settlement activity as illegitimate and counterproductive to the cause of peace. We remain deeply concerned about Israel's current policy on settlements, including construction, planning, and retroactive legalizations," said Kirby.
The spokesperson added that, "the US government has never defended or supported Israeli settlements, because administrations from both parties have long recognized that settlement activity beyond the 1967 lines and efforts to change the facts on the ground undermine prospects for a two-state solution. We are no different."
Ironically the EU has been changing facts on the ground by funding illegal Arab settlements in Area C of Judea and Samaria, an array of regions designated by the 1994 Oslo Accords to be under full Israeli administration.
In response to Kirby's statements, Lee sought to clarify whether he meant the US has "no issue" with the EU decision to no longer apply its agreements with Israel in the Jewish Biblical heartland of Judea and Samaria, to which Kirby indicated there is no American opposition.
He also reiterated the administration's support for the EU decision last November to label Jewish products from Judea, Samaria and the Golan Heights.
"We do not view labeling the origin of products as being from the settlements a boycott of Israel. We also do not believe that labeling the origin of products is equivalent to a boycott," said Kirby.
In December the EU double-standard in the move was put on display as a top European court struck down a trade deal with Morocco in the occupied Western Sahara, and the EU responded by petitioning the ruling.
Legal experts revealed the ruling undermines the EU's claims that its labeling of Israel and taking other punitive actions are due to a principle of "non-recognition," since the court decision shows that it can and does do business with "occupiers."
Regarding the legal status of Israel's presence in Judea and Samaria, and consequentially of products from the region and agreements in it, the 2012 Levy Report proved that Israel's presence is legal according to international law.
However, despite being commissioned by Prime Minister Binyamin Netanyahu, two consecutive coalition governments led by him have yet to adopt the findings of the report.