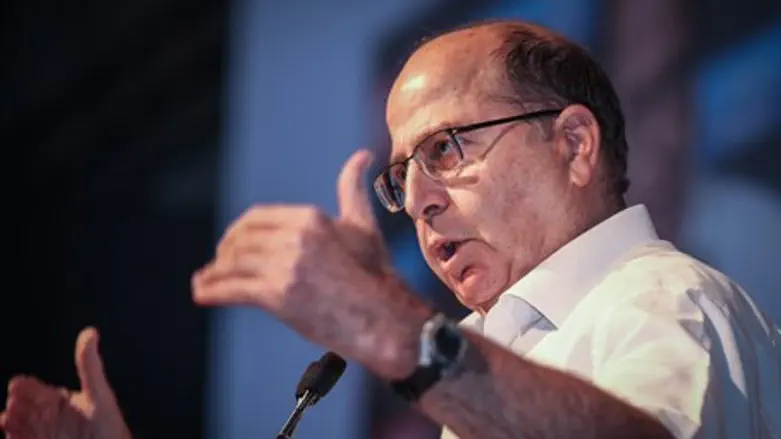 Moshe Ya'alon
Flash 90
Israel's main and most dangerous enemy is Iran, Defense Minister Moshe Ya'alon told the Institute for National Security Studies (INSS) annual conference on Tuesday.
"Our principal enemy is Iran, after I heard people here say here other things," Ya'alon said, in a likely reference to comments by IDF Chief of Staff Gadi Eizenkot, who on Monday told the same forum that Hezbollah is the most serious threat to Israel.
"There are voices who say otherwise, that it's now ISIS. But if I had to choose between Iran and ISIS - I would prefer ISIS. ISIS does not possess Iran's capabilities," he added.
The Defense Minister warned that, with the lifting of the sanctions, Iran will now be able to sign arms deals worth tens of billions of dollars that will further finance its terrorist proxies in the region.
"This is a rebellious regime with intentions of regional hegemony," said Ya'alon. "In Lebanon, Iran has Hezbollah as a messenger with a veto power [in parliament] that could decide to go to war without consulting the government of Lebanon. The Chief of Staff described it very well here. Iran's terror infrastructure exists today on five continents: Asia, Africa, Europe, South and North America. The agreement turned back Iran's technological clock from three months to a year, but if Iran feels financially secure - it can reach a nuclear weapon even before that."
Ya'alon spoke about the relations between Israel and the United States in the Iranian context, saying that interests are the most important thing in relations, "more than ceremonies and peace conferences."
"There's a camp that would like to rely on America's lead and is sometimes greatly disappointed because the Americans view Iran as a partner," he added.
Ya'alon also discussed the conflict with the Palestinians, saying, "Those who think that the solution is known, that we can just sit the two parties down and force a political solution on them - that does not work. We need to find another way to work on things from the bottom up. We have a lot to offer to the Palestinians."
The Defense Minister also replied to the criticism leveled at him earlier in the same forum by Jewish Home chairman Naftali Bennett, accusing the Education Minister for stealing ideas discussed in Cabinet meetings and then shooting them out "irresponsibly."
"Policies are not managed with slogans. This is a bad culture of government, it has to stop," he added, though he did not mention Bennett by name.