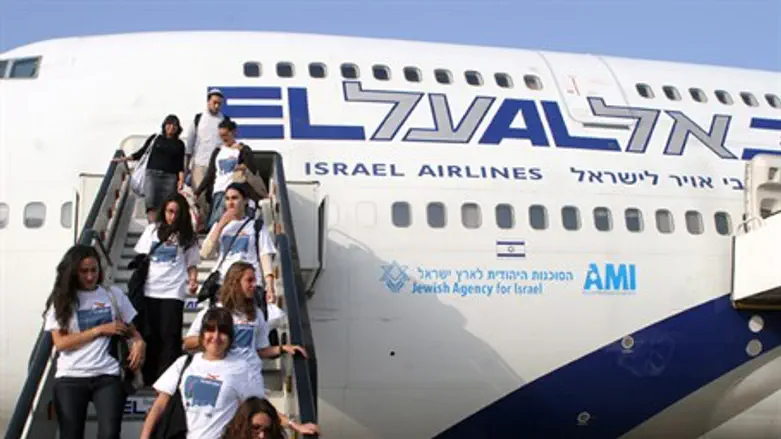 French aliyah (file)
Marc Israel Sellem/Flash90
Most of the people who voted for the Zionist Union (Labor / Hatnua) and Meretz would not encourage French Jews to immigrate to Israel, a surprising new poll found.
The poll, which is cited in conservative-nationalist website Mida, was carried out by pollster Prof. Avraham Diskin under the auspices of the Shaarei Mishpat college of law.
The respondents were asked – "Would you recommend to a close friend or relative in France, who is well-off as far as status is concerned, to make Aliyah to Israel?"
Most of the people who vote for the right-wing responded affirmatively. A total of 64.5% of Jewish Home voters said "definitely yes" or "yes, I think so," as did a total of 57% of Likud voters. The rest chose "I think not" and "definitely not."
However, most left-wing voters appeared to prefer to see the Jews stay put in France. Only 46% of the Zionist Union voters selected the positive answers, and among Meretz voters, only 17% would have encouraged the hypothetical French friend or relative to make Aliyah.
Using the word "Zionist" to re-brand the Labor party and Tzipi Livni's Hatnua was a brilliant move, opines Akiva Bigman in Mida, but Livni and Labor head Yitzchak Herzog may be "stretching their own definitions anew." If the majority among the group they represent does not recommend making Aliyah, this looks like "a new kind of Zionism," which "recommends that Jews remain in the Diaspora, while the minority that remains in the Land of Israel calls Obama every time it wants to build a new porch."
Some in the nationalist camp have long suspected that the reason the Left has been less than exuberant in calling on French Jews to make Aliyah is that most of these Olim are Sephardic Jews with traditional, right-wing views.