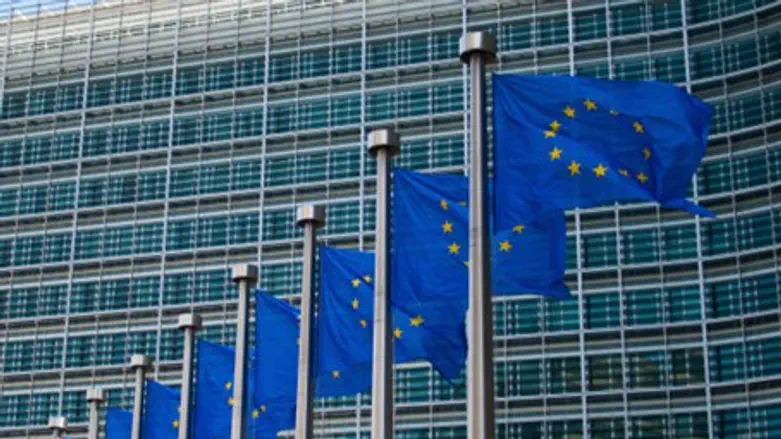 EU headquarters in Brussels (file)
Thinkstock
The European Union (EU) passed on Monday evening a resolution stipulating that all agreements between Israel and the EU not apply to any areas over the 1949 Armistice borders.
In the convoluted wording of the resolution, it states, "The EU expresses its commitment to ensure that - in line with international law - all agreements between the State of Israel and the EU must unequivocally and explicitly indicate their inapplicability to territories occupied by Israel in 1967."
"This does not constitute a boycott of Israel which the EU strongly opposes," it added. 
The moves comes several hours after reports of friction between foreign ministers over the harsh wording of the resolution, which some countries found to be overly critical of the Jewish state. 
Prime Minister Binyamin Netanyahu along with several top Foreign Ministry officials spoke with leaders and foreign ministers in Europe on Sunday in an effort to block the vote. 
Ahead of Monday's discussion on the resolution, Netanyahu ordered that foreign ministers of EU countries and the EU's foreign policy chief Federica Mogherini be sent material on the Palestinian incitement.
Despite Netanyahu's lobbying, the vote was held as planned, though his diplomatic push did succeed in prompting several countries to demand a softer version of the resolution.  
A clause requiring EU member states to draw a distinction between Israel-proper and territories over the 1949 Armistice lines was subsequently dropped from the final version of the resolution. 
The EU resolution concludes that "settlements are illegal under international law, constitute an obstacle to peace and threaten to make a two-state solution impossible."
It thus urges Israel "to end all settlement activity and to dismantle the outposts erected since March 2001, in line with prior obligations."