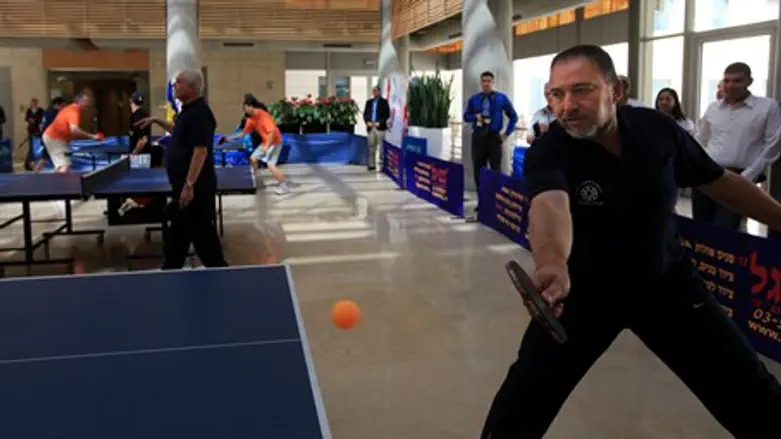 Avigdor Lieberman plays table tennis
Photo: Kobi Gideon / Flash 90
Israel has pulled its team from the World Team Table Tennis Championships in Kuala Lumpur following a row with the Malaysian government over entry visas.
International Table Tennis Federation (ITTF) chief executive officer Judit Farago had insisted Israel must be allowed to compete or Malaysia could be banned from hosting future tournaments.
Farago had also threatened that the World Championships would be scrapped, and Malaysia would have to pay for the cancellation costs if the visas were not issued.
However, with Israel withdrawing from the tournament, chances of Malaysia hosting future world tournaments were not jeopardized.
Israel's Table Tennis Association (ITTA) announced their decision on their website claiming the board decided not to send a delegation due to security concerns.
"With great regret, it was decided that the team will not go to the World Championships. ITTA has received a letter from the Department of Defense of the Ministry of Sports saying that it is unable to send a delegation to Malaysia with security personnel following the prohibition of the Malaysian government. The Association is not willing to risk their athlete's security."
Table Tennis Association of Malaysia (TTAM) secretary Chan Foong Keong said that it is common for teams to pull out of international sporting events at the last minute,
Israel is among three teams who have decided not to participate in the table tennis championships scheduled for February 28 through Mar ch 6. The other two are Peru and Azerbaijan. 
This comes a month after the Israel Sailing Association withdrew its athletes Yoav Omer and Noy Drihan and coach Meir Yaniv, after they were denied visas to compete at the Youth Sailing World Championships in Malaysia, just 24 hours before the event.
Malaysia, a Muslim majority state in Southeast Asia which does not have diplomatic ties with Israel, forbade the delegates to compete under the Israeli flag, to use any symbol identifiable with Israel on their clothes or surfboards, and would not play the Israeli national anthem should an Israeli win a gold medal.