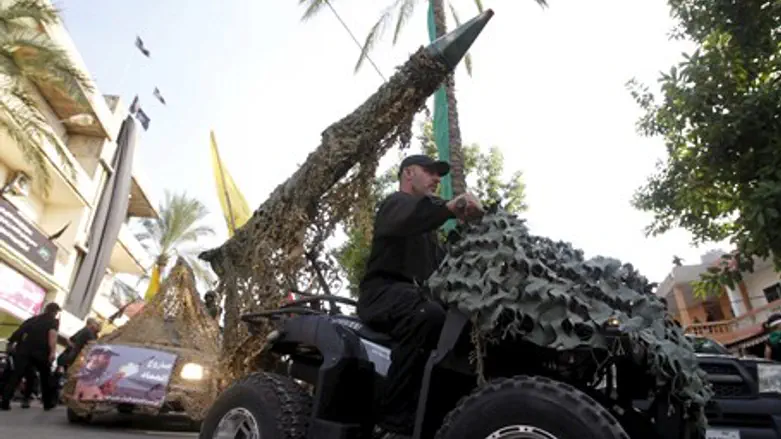 Hezbollah terrorist with missile
Reuters
IDF Chief of Staff Gadi Eizenkot said Monday at the Institute for National Security Studies conference in Tel Aviv that the Iran nuclear deal posed "many dangers" but also opportunities. 
"Since the end of 2005, Israel's central threat was Iran," he stated. "The deal is a significant change in the vector Iran is going toward." 
Eizenkot said the IDF was forming new assessments as a result of the deal, noting that in his estimation, "in the next five years, Iran will work to maintain the nuclear agreement, but in 15 years it will continue its vision to achieve a nuclear weapon." 
The IDF Chief argued Iran's efforts to achieve nuclear weapons stemmed from its ambitions to become an even greater regional power.
"Iran is waging a war against Israel via proxies like Hezbollah in Lebanon, who today poses the most serious threat to Israel."
"We also see an attempt attempt to influence Arabs in Israel and Gaza," Eizenkot continued. "The estimation is that as the economic situation in Iran continues to improve, within a year or two, it will direct greater resources to this campaign."
Eizenkot also addressed the crisis in Syria, noting that radicalization from Islamic State (ISIS) was seeping into Palestinian society.  
"If there's a place where ISIS can be defeated within a year, it's Sinai. In Syria, it will take years," he asserted, adding, "there is a relatively high penetration of ISIS in Palestinian society, particularly Gaza."
"In the last two months we've seen a change in Syria and ISIS' success has been stopped, but the Sunni-Shiite struggle there will last for years. World powers are finding it difficult to achieve anything."