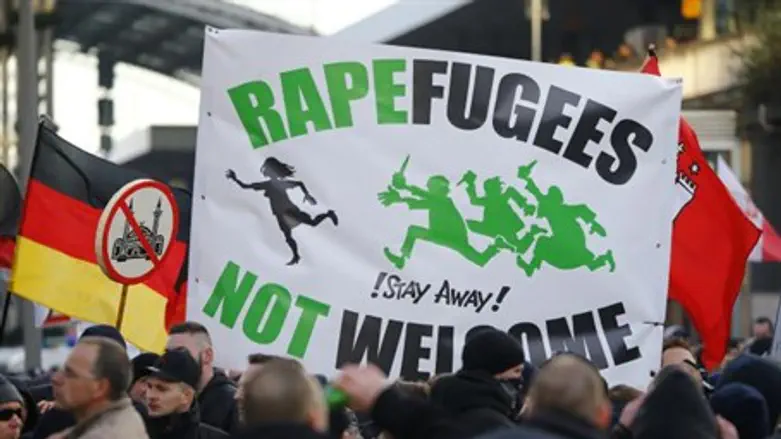 Anti-immigrant protest in Cologne (illustration)
Reuters
Canadian Minister of Immigration, Refugees and Citizenship John McCallum tried to downplay fears at a press conference last week, insisting that the mass pre-planned sexual assaults in Europe on New Year's Eve are not a cause for concern in Canada.
While sexual abuse and rape were committed on New Year's by Arab migrants in a number of European states, including cities in Sweden as well as in Paris, some of the most shocking cases took place in Cologne, Germany, where authorities took over a week to confirm that Muslim "refugees" were the culprits behind hundreds of sexual assaults and several cases of rape.
McCallum said the Canadian government is aware of the "situation in Germany," indicating the campaign of sexual assaults, but claimed Canadian women need not fear because of the government's selection process.
"We are obviously very mindful of the situation in Germany, in the province of Germany...but let me remind you that we are talking about 25,000 Syrian refugees (in Canada)," said McCallum in his statement to the press. "Germany has accepted close to a million, and that the ones that we are receiving we have carefully selected them."
"Most of them are not single men. Most of them are family members whereas Germany accepts everybody that comes to its borders. I think the two situations are quite different. I certainly don't want to take anything for granted and we will work extremely hard to integrate these newcomers successfully. But I think our situation is very different from Germany."
The statement comes after McCallum, two weeks ago on Friday, told CBC: "I don't want to be boastful, but one of the things in which we do is show leadership is our capacity to build a multicultural society and our ability to integrate newcomers into it. Since you mentioned Germany, two ministers from Germany went to meet the mayor of Markham to ask him how we do it."
"There will be some bad apples, no doubt about it, it's 25,000 people," he admitted, noting the number of Syrians to be brought in to Canada by the end of February. "But I think our past experience shows that generally speaking these newcomers have integrated themselves well, quite quickly will become employed and productive members of Canadian society."
The rapid influx of Middle Eastern migrants into Europe and North America in the last several months has led rise to serious concerns that aside from sexual assault, Islamic jihadists will infiltrate the masses and conduct terror attacks, as has already taken place in several instances such as the Islamic State (ISIS) Paris attacks last month.