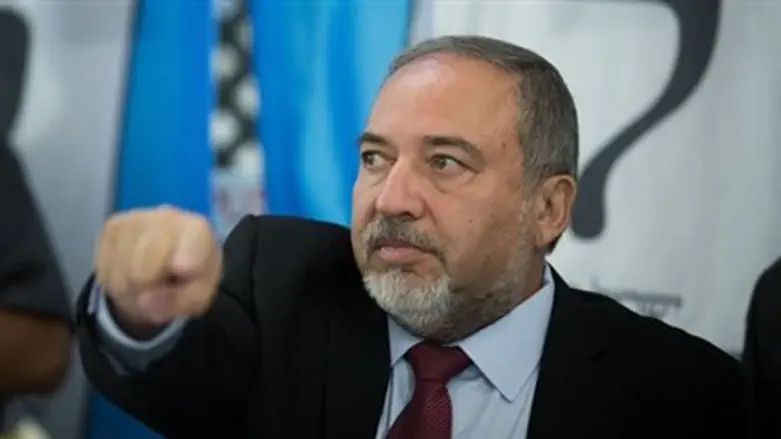 Avigdor Liberman
Yonatan Sindel/Flash 90
Yisrael Beytenu chairman MK Avigdor Liberman on Wednesday urged Israelis to stop shopping at the popular IKEA furniture store in protest of Swedish Foreign Minister Margot Wallstrom's latest remarks against Israel.
On Tuesday, Wallstrom called for an investigation to be opened in order to determine whether Israel is guilty of executing Palestinian Arab "assailants" without trial, fueling already existing tensions between Stockholm and Jerusalem.
"Sweden ignores the wave of terrorism that is affecting the whole world and especially the Middle East, and finds it necessary to specifically condemn Israel and compare us to Palestinian terrorists. It cannot go without a response," Liberman told Walla! News on Wednesday, shortly after Deputy Foreign Minister Tzipi Hotovely announced that Swedish officials are no longer welcome to visit Israel.
Liberman told Walla! that Sweden's conduct remains as it was during World War II, when the country had business dealings with Nazi Germany.
"Sweden made the majority of its profits from trading with Nazi Germany," he said. "In 1943 they knew about the refugee camps, about Auschwitz and Buchenwald, and that the gold with which they were paid was plundered from Jews. Sweden is a country that is concerned only with its own money and wealth. They provided the steel and iron for the construction of tanks in World War II. It's the same line and the same tradition. I would stress that 99% of the population were pleased about it and collaborated with the Wehrmacht."
Liberman then called on Israelis to stop shopping at IKEA, saying, "I do not call for the severing of relations with Sweden, but we must not ignore this. The national sport of the people of Israel is buying at IKEA on Fridays, so I encourage everyone to think about this. There are enough Israeli products. The owner of IKEA is not an enemy of Israel, on the contrary, but we must remember that Sweden took part in the initiative to mark products produced in the settlements and in the Golan Heights."
Later on Wednesday, Israel's Foreign Ministry summoned Swedish ambassador to Israel Carl Magnus for reprimand over Wallstrom's comments.
Magnus was summoned by Aviv Shiron, the Foreign Ministry's director-general for Western Europe division, who attacked Wallstrom for her "biased and hostile attitude toward Israel."
"The minister's remarks indicate she does not understand what is happening in the region and is probably not aware of the difficult situation Israeli citizens are exposed to - the constant danger of murderous terror attacks," Shiron told Magnus.
"In view of the Swedish minister's harmful and baseless attitude, she has removed herself for the foreseeable future from any role with regard to relations between Israel and the Palestinians."
Tuesday, of course, was not the first time Wallstrom has made anti-Israel remarks. In December, she made similar accusations against Israel, claiming during a debate in parliament that Israel was "executing" without trial terrorists who carried out stabbing attacks in Israel.
Several weeks before that, the Swedish minister provoked a firestorm of criticism, when she appeared to blame the terrorist attacks in Paris on "Palestinian frustration" with Israel.