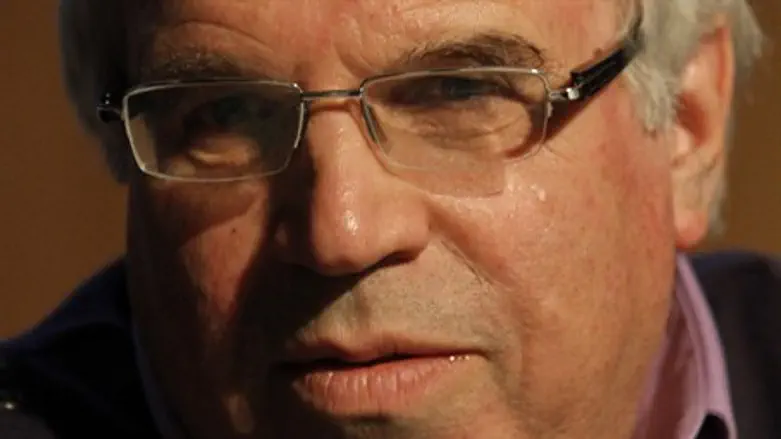 Alon Liel
Yossi Zamir/Flash 90
More details emerged Tuesday morning regarding a secret recording of a meeting between ex-diplomat Alon Liel and about five central activists in Breaking the Silence, a group that besmirches the IDF abroad. The meeting took place in the Tel Aviv offices of Breaking the Silence – which receives funding from the New Israel Fund, among other sources – on December 17, 2015, and was recorded by a "secret agent" from nationalist group Ad Kan.
According to Yifat Erlich of Yediot Aharonot, who saw the entire recording, Nadav Weiman, Breaking the Silence's coordinator of activists, started the conversation by explaining that the group has been coming under fire for attacking Israel abroad, and describing a feeling that matters were spinning "out of control." 
He described Liel as "a good friend of the organization who has been accompanying us from the outset."
Liel told the group that "international activity is critical." One reason, he said, is that the Left has lost the battle for Israeli public opinion.
"I receive terrible ricochets from the Israeli public," he continued. "I am threatened. All of my friends are threatened. I believe that only the international community can change public opinion, as happened in South Africa."
One of the activists asked Liel if the group's legitimacy does not depend on the Israeli public.
Liel replied: "What legitimacy do you have? You have a two percent legitimacy, you see. But what two percent? The most moral people, the brightest ones, who can see 20 years ahead, who are not brainwashed by the messianic right-wing propaganda. Only people who do not depend on anyone. I can guarantee you that [ex-Shabak head Yuval] Diskin and [MK Yaakov] Perry think the same way. [But Yesh Atid head] Yair Lapid has come out against you, so Perry knows that if he says a word, he will be booted from the Knesset list."
Liel further explained that he can speak his mind freely because "I do not depend on anyone. The university in Tel Aviv will not say anything because many of the professors there share my opinions."
'They were traitors'
Liel, who was Israel's ambassador to South Africa and Director of the Foreign Ministry, described how apartheid South Africa gradually lost its legitimacy and said that the Israeli context was "very similar."
"You are our country's hope," he encouraged the activists. "It's true that so many people think you are wrong, but I told you about the Jews who helped Nelson Mandela. There, their families did not speak to them. They were traitors to the whites, to the Jews, they were exiled, they were jailed. You have not yet begun to pay those prices."
Liel then explained that the group needs to focus on the UN, because individual nations have a hard time fighting Israel: "Not even Britain, not France, not the United States, because of the consensus here, because of the determination and the willingness to pay a price. Bibi was willing to go to Congress and fight Obama, and nothing happened."
However, he said, if the UN Security Council adopts a pro-Palestinian resolution and the US does not veto it, the matter could reach the General Assembly, which could then make Palestine a full member state. If this happens, he elucidated, Israel would be deemed as occupying a UN member state, and this "sets into motion an unavoidable process of beginning to suspend us from the UN. It is unavoidable. No UN member state in history was an occupier of another state that is a UN member. South Africa was booted from the UN; it was dismissed. No one could take part in Olympic games. You couldn't travel anywhere in the world with a South African passport."
'I couldn't leave my home for a whole week'
At this point, Weiman said: "If they do a sports boycott on Israel… God. Really, I say a sports boycott on Israel."
Liel agreed and floated the idea that FIFA could boycott Israel, leaving Israeli soccer fans with league games like Betar Jerusalem versus Hapoel Tel Aviv. "Is that worth living for? For the brawls between Betar and Hapoel fans? Let me breathe a bit. Some Barcelona. You think it can't happen? It can still happen."
Liel informed the activists that a FIFA committee had just met with the PA prime minister in Jericho to discuss similar ideas. "Imagine FIFA saying, no problem, Israel, you have great soccer, but let Betar Ariel and Betar Givat Ze'ev play in the Palestinian League. That would be enough for us."
Liel then boasted about his role in getting Brazil to refuse the appointment of Dani Dayan as ambassador. "We went to the Brazilian ambassador and told him, he may be a big shot internally, but outside he is the head of the settlers, don't approve him. I couldn't leave my home for a whole week," he said. "Worse than what you are experiencing now. A week I couldn't leave."
Liel responded to Yediot Aharonot by saying that he is motivated only by a concern for the future of Israel. "There is no reason to record me secretly; my views are well known and I say them from every podium."
Breaking the Silence said its activists were "happy and even proud" to meet with Liel, "as we meet with numerous people, with a variety of views, as part of the team's process of development and learning."