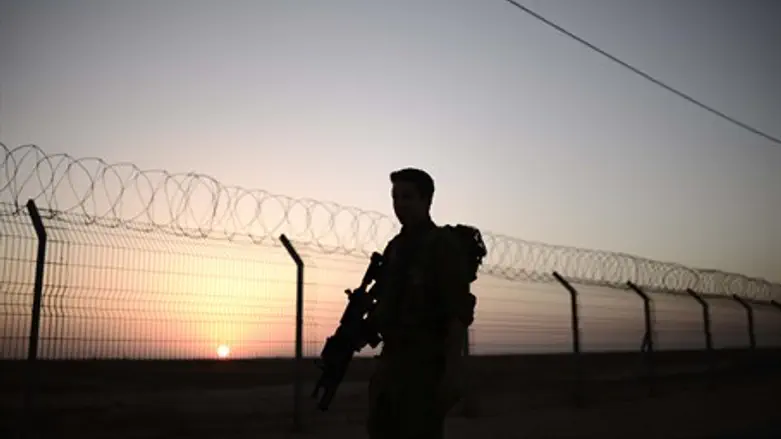 IDF soldier on the border with Gaza (file)
Tomer Neuberg/Flash 90
Hamas threatened to attack Israel in response to an IAF airstrike that killed one Hamas terrorist and injured three others on Wednesday morning.
A spokesperson for the terrorist organization released a statement this morning that said "the attack by Israeli occupation forces against Hamas citizens that took place this morning in the north of Gaza, is an Israeli way of playing with fire."
A statement released by the IDF spokesperson unit said that the IAF attacked a terrorist cell in the north of Gaza that was attempting to deploy a large explosive device on the border fence with the intention of killing Israeli soldiers.
While MK Haim Yellin (Yesh Atid), a resident of Nahal Oz and former Eshkol regional council head, praised the security forces who "proved this morning again that they will do everything so that Gaza Belt residents can live in quiet," his associate decried the government's actions.
Channel 10 news reported that MK Ofer Shelah (Yesh Atid), who hails from the same party as does Yellin, harshly criticized the government and said that Prime Minister Binyamin Netanyahu is not doing enough to prevent the next war.
"Netanyahu and [Defense Minister Moshe] Ya'alon, are not taking any initiative, they are not attempting to reach out to the local powers-that-be who have influence and power in order to ensure that Hamas is doing what it said it would at the end of Operation Protective Edge. They are not demilitarizing Gaza, nor are they diminishing Hamas' desire for war," said Shelah.