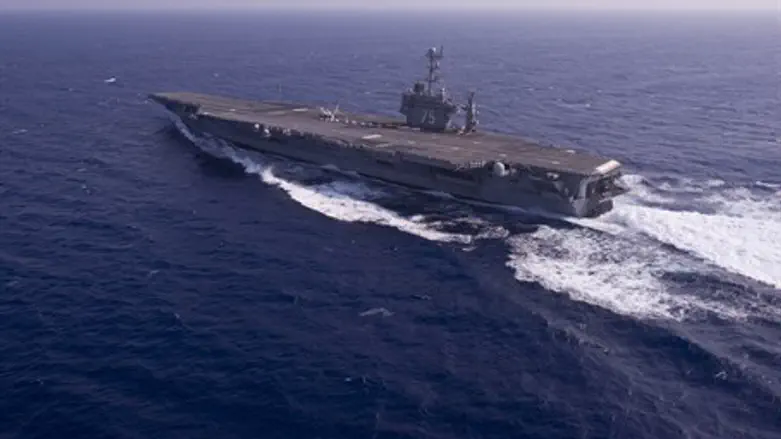 USS Harry S. Truman
Reuters
Iran has demanded the United States "apologize" after the Iranian navy captured 10 American sailors and confiscated their equipment.
The Iranian military claims the US sailors "violated" Iranian territorial waters due to faulty equipment, with Iran's Fars news agency reporting they had drifted two kilometers into Iranian territory. The Pentagon confirmed that the boats accidentally strayed into Iranian waters due to a mechanical malfunction.
The sailors were detained by the naval arm of the Iranian Revolutionary Guards.
In a live interview on Iranian state TV, Rear Admiral Ali Fadavi said foreign minister Mohammad Javad Zarif had spoken "firmly" to US Secretary of State John Kerry about the incident.
"We were in contact with (Foreign Minister Mohammad Javad) Zarif and he was informed about the situation," he said to Fars. "John Kerry also had contracted Mr. Zarif and requested release (of the US marines), but Mr. Zarif has adopted a strong and firm stance and told Kerry that they have been in Iran's territorial water and they should apologize."
"Investigation shows that [the] entry of American sailors into Iran's territorial waters was due to mechanical problems in their navigation system and that issue is being resolved," he stated, while telling official Tasnim news agency that Iran would "probably" be releasing the American personnel - nine men and one woman - "soon."
Earlier, Zarif also said the sailors would be allowed to continue on their way.
According to the Associated Press, Tehran plans to release them at 10:30 a.m. local time, when it is "safer" to do so. They will likely be returned to the USS Harry Truman aircraft carrier, which is stationed nearby.
The detention of American sailors is just the latest Iranian provocations on the high seas. Iranian warships have periodically stoked confrontations with US vessels, including an incident last December in which Iranian ships provocatively launched rockets in alarmingly close proximity to three Western warships, including the flagship USS Harry S. Truman.
The provocations - and the lack of response from the White House - have emboldened critics of Washington's nuclear deal with Iran, who say it proves that the deal has merely emboldened Iran to increase its aggression in the region.