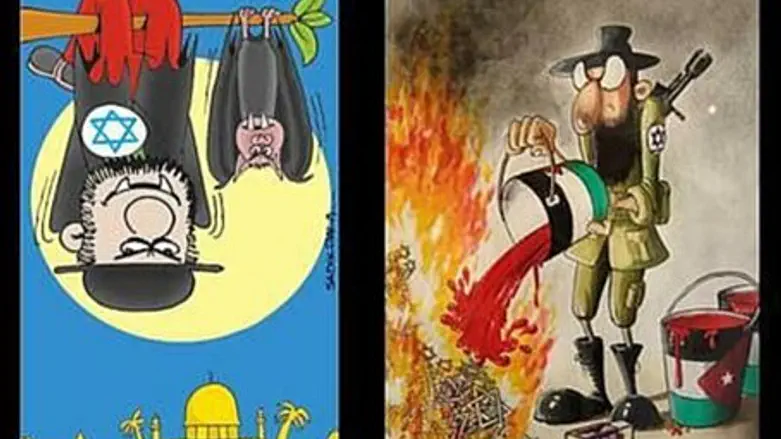 Iranian cartoons
Israel UN delegation
Israel's Ambassador to the UN, Danny Danon called on the UN Secretary General, Ban Ki-moon, to condemn Iran for hosting an annual cartoon contest promoting Holocaust denial.
"This anti-Semitic act represents the pure evil of the Iranian regime," Danon said Tuesday. "Denying the Holocaust is one of the most powerful expressions of anti-Semitism, which legitimizes the deaths of millions of Jews," he said.
The competition, which is held under the auspices of the municipality of Tehran, made an international call for participants to submit cartoons ridiculing and denying the Holocaust. The winner of the competition will receive a prize of $50,000.
Ambassador Danon wrote in his appeal to the UN Secretary General: "At the end of the month, the UN will mark the International Day of Commemoration of the Victims of the Holocaust. While the world will remember the atrocities of the Holocaust which are still fresh in our collective memory, one member state will be hosting a contest which desecrates the memory of the 6 million Jews murdered in the Holocaust. The United Nations must resolutely stand up against this hatred and harshly condemn this heinous act."
This cartoon contest has been held in Iran in the past by the "Iranian House of Cartoons" with significantly smaller prizes.