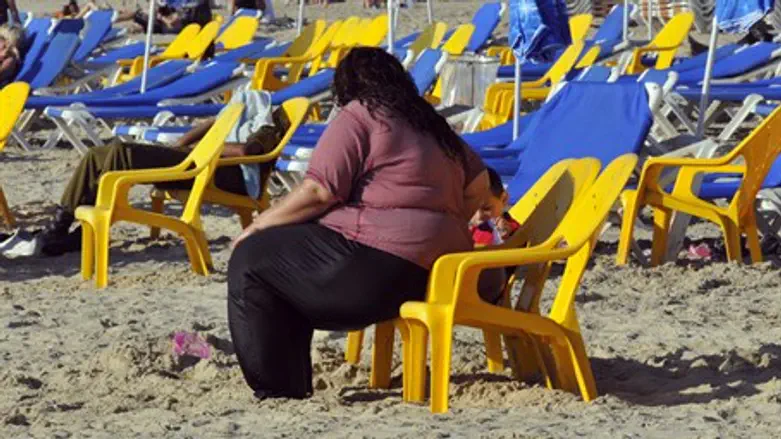 Obese person at Tel Aviv beach
Serge Attal/ Flash 90
The Knesset Health Committee met on Tuesday to discuss the rising levels of diabetes and obesity in Israel, as part of Diabetes awareness month.
The President of the Israeli Diabetes Association, Professor Itamar Raz, told the committee that as of 1990 there were 280,000 people who suffered from diabetes in Israel.
Today there are over 600,000 who suffer from the disease and another 600,000 who are pre-diabetes. "It is a growing epidemic which continues to get more serious as time goes one," he said.
"Diabetes is the leading cause of hospitalization, blindness, dialysis and the amputation of feet and toes," the professor added.
Deputy Director of the Health Ministry, Professor Arnon Afek, announced during the session that the country is going to build a national campaign to combat the disease. "The campaign will attack diabetes on all fronts, beginning with preventative medicine, and education, as well as treating the disease."
Professor Ronit Endwalt, Head of the Dieticians department inside the Health Ministry revealed that "the pandemic of obesity is twice as prevalent in the Arab sectors as it is among Jewish Israelis."
"We are leading a national campaign to lower the amount of salt that is being consumed in our diets. We have already succeeded in lowering the sodium in most foods in Israel by 20 percent without complaints. The amount of sodium in cottage cheese for example has been lowered by 30 percent."
The Deputy head of the Department of Health for the IDF Captain Doctor Lior Yehoshua said that 22 percent of those who enlist to the army suffer from being overweight. Another three percent were slightly obese, and 70 percent of soldiers gain weight while serving in the army.   
Professor Dan Namat  pointed out that a six-year-old who suffers from obesity, has a 70 percent chance that he will suffer from the condition for the rest of his or her life.
"I meet children in first grade who weigh 80 kilograms, and children in sixth grade who weigh 150 kilo," Namat said. "The difference between a regular child and an overweight child is about 200 calories per day and a little bit of daily physical exercise. Meaning they have to eat a little bit less and a bit healthier. That is all. It is amazing to see how the modern world cannot overcome 200 calories per day."  
Head of the Dieticians department for Maccabi HMO Billy Cohen said that of the 350,000 users of the HMO who are at risk of obtaining the disease, seven percent of them become diabetics each year. "We've set ourselves a goal of stopping that progression."
Committee Chairperson Eli Elaluf (Kulanu) notified those present that the committee will gather the various bodies represented and organize a nation wide fight against diabetes and obesity, in addition to creating and passing laws that will help the situation. Among them he said will be a standardized subsidy on whole wheat bread rather than on white bread.