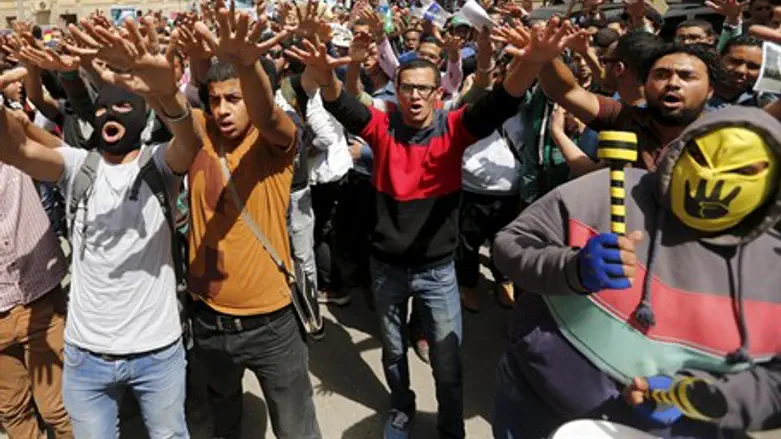 Muslim Brotherhood protesters in Cairo
Reuters
A senior member of the Muslim Brotherhood in Egypt was arrested on Monday on suspicion of involvement in last week's attack on the Three Pyramids Hotel in Cairo, Daily News Egypt reported.
According to the report, the man in question is Muslim Brotherhood member Abd El-Aal Al-Ashry, the brother of former parliamentarian Gamal Al-Ashry.
Abd El-Aal and his sons are accused of taking part in last Thursday's shooting attack which targeted a bus carrying Israeli tourists outside the hotel.
The investigations revealed that Al-Ashry allegedly ordered a number of Muslim Brotherhood members to carry out the attack, according to Daily News Egypt.
The investigation further purported that Al-Ashry received assignments from Muslim Brotherhood leaders in Qatar to undertake "several terrorist operations" before the anniversary of January 25 Revolution, targeting hotels in the area surrounding the Great Pyramids in Giza.
His two sons are alleged to have been among the masked assailants who committed the shooting at the Three Pyramids hotel on Thursday, according to the English-language news website.
The attackers reportedly hid out in an apartment in the Sheikh Zayed suburb of Giza. Security forces are continuing investigations into the attack, the report said.
There have been conflicting reports about the attack. Security sources in Egypt made clear that the tourists on the bus were Israeli Arabs and not Jews and also said the attack was criminal in nature.
But despite those claims, the Islamic State (ISIS) jihadist group claimed responsibility for the shooting on Friday, claiming it had targeted a "tourist bus carrying Jews" and that there were "killed and wounded in the ranks of the Jews and hotel security forces".
Thursday's shooting was followed a day later with an attack on the Bella Vista Hotel in the Red Sea resort city of Hurghada, in which two foreign tourists were wounded.
It remains unclear whether the two attacks were connected.
The Muslim Brotherhood in Egypt has been blacklisted as a terrorist organization ever since its president, Mohammed Morsi, was ousted in July of 2013 by the army.
Since Morsi's ouster, Egyptian courts have sentenced hundreds of alleged Brotherhood supporters to death as part of a crackdown on the blacklisted group, many in mass trials condemned by foreign governments and rights groups as violating international law.