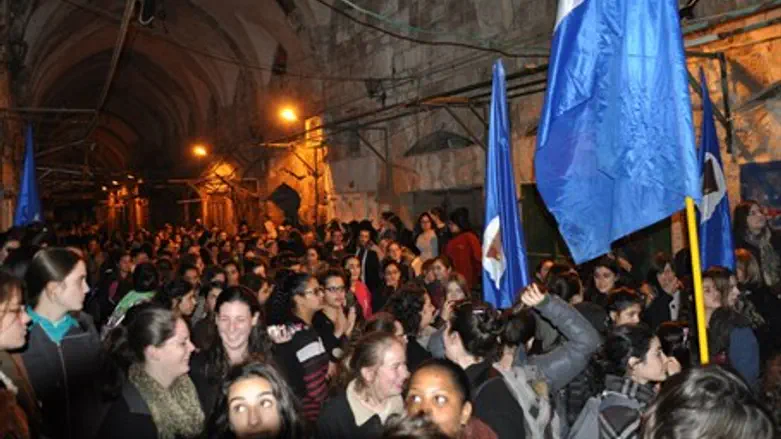 Temple Mount march
Nadav Malka
Around 600 Jews took part in a march around the Temple Mount in Jerusalem on Sunday night for Rosh Chodesh, welcoming the Jewish month of Shevat with prayer in a traditional march around the gates.
The participants prayed at each gate of the Mount, the holiest site in Judaism, in a monthly call for the construction of the Third Temple.
Standing out among the marchers was a large group of Jewish girls from France, who arrived for a year of studies in Israel and took part in the traditional Temple Mount march for the first time. They spoke about how the event was particularly moving for them.
Rabbi Yossi Peli, who teaches at Od Yosef Chai Yeshiva in Yitzhar and is an organizer of the event, said there was a unique atmosphere in the Temple Mount march this month.
"In the month of Shevat we begin to feel the blossoming and the renewal of the year," said the rabbi. "The true renewal for the nation of Israel and all of humanity is tied to the aspiration for the Holy Temple."
Sunday night's march went smoothly without any provocations by members of the radical left.
Last month High Court judges rejected a petition submitted by the leftist activists, asking that they be allowed to enter the march in an organized fashion and document it.
In the decision, the judges noted the words of the march's attorneys, who explained that the Rosh Chodesh walk around the Temple Mount gates is an ancient custom rooted in practices from nearly 1,000 years ago, and that it has now been renewed and held for the past 14 years without any complaints.