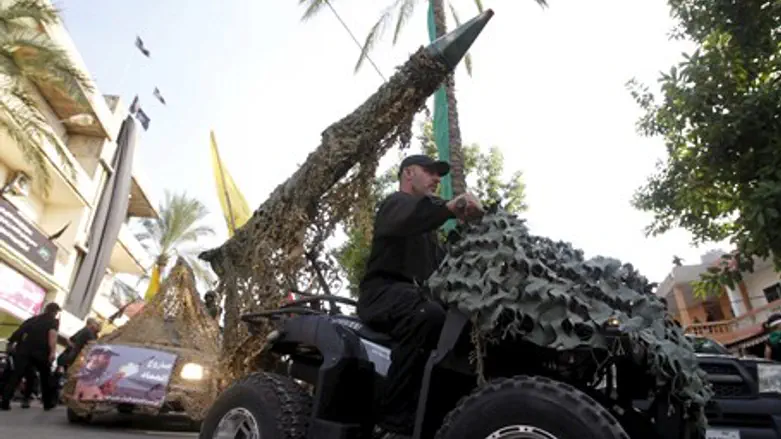 Hezbollah terrorist with missile (file)
Reuters
Field commanders in the Iran-proxy Shi'ite terror organization Hezbollah have revealed that Russia is giving the Lebanese group highly advanced weapons with no strings attached, in a great potential threat to Israel's northern border.
The commanders spoke on condition of anonymity to The Daily Beast in late December and earlier this year in Dahiya, a suburb of Beirut, and the contents of their revelations were published on Monday.
According to the senior sources, there is complete coordination between Hezbollah, Russia, Iran and President Bashar al-Assad's regime in Damascus, but they emphasized that ties between Russia and Hezbollah have been flourishing since Moscow launched a campaign of airstrikes in Syria starting in September.
Russia is handing out long-range tactical missiles, laser guided rockets and anti-tank weapons directly to Hezbollah terrorists with no strings attached, said the commanders.
"We are strategic allies in the Middle East right now - the Russians are our allies and give us weapons," said a Hezbollah officer commanding five units of 200 troops who called himself Commander Bakr.
Another calling himself Assir, who commands a Special Forces unit in Syria and recruits and trains for Hezbollah in Lebanon, told the paper that "Hezbollah is teaching the Syrian army how to use many of these new weapons."
Israel also a target
He said the Russia is not limiting Hezbollah's use of the advanced weapons - even against Israel.
"When it comes to Israel, Hezbollah doesn't take directions from anyone," he emphasized. The paper noted it is not clear if Assir is in a senior enough position to be in the know regarding secret agreements that may limit strikes on Israel, as Russia recently called on Hezbollah to calm tensions with Israel.
However, Bakr and Assir claimed that even without the influx of advanced Russian weaponry Hezbollah could hold its own and withstand an Israeli invasion of the southern Lebanese border, thanks to weapons the terrorist group has received from Iran, the leading state sponsor of terror.
Recent updated estimates from last November showed Hezbollah already has roughly 150,000 missiles pointed at Israel.
Tensions have been high between Hezbollah and Israel. Last week Hezbollah planted an explosive device on the border, after Israel apparently assassinated the Hezbollah commander Samir Kuntar.
The Israeli Air Force (IAF) has been active in Syrian skies as Prime Minister Binyamin Netanyahu said last month in a rare acknowledgement.
Another reported airstrike on Hezbollah weapons in Syria along the Lebanese border came earlier on Monday. Israel's position has been to prevent "game changer" weapons from being transferred to Hezbollah in Lebanon, so as to defend it's northern border.