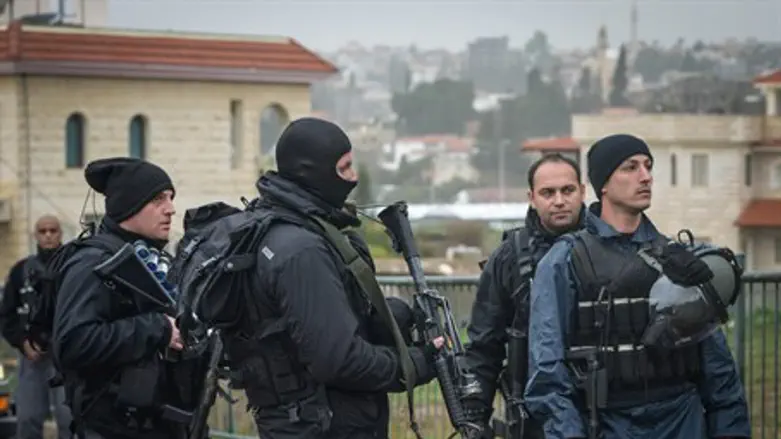 Security forces in Arara ahead of Nashat Milhem's elimination
Basel Awidat/Flash 90
Arab Israeli terrorist Nashat Milhem was located and shot dead on Friday, over a week after he murdered three people in Tel Aviv, but new facts about the case strengthen police suspicions that he received considerable aid.
Milhem, an Arab citizen of Israel, was located and killed in his hometown of Arara in Wadi Ara in the north, and several residents of the town were arrested on Friday after it became clear he was receiving food and help in securing hideouts.
According to police sources and residents of the Aldharat neighborhood where he was found, who were cited by Yedioth Aharonoth on Saturday night, it was known that "he received full aid, especially from his family members, since arriving in Wadi Ara last Friday. Every day he slept in a different place. They brought him food and took care of him."
One resident of the Israeli town told the site that "Nashat grew up in the Aldharat neighborhood, and he had good relations with everyone who lives here."
"Many people knew that he was here, but it was difficult to inform on him and tell the police," admitted the Arab Israeli. "His family members also didn't want to be responsible for his arrest, and preferred to protect him until the last moment."
On Saturday night, five suspects believed to have aided Milhem were brought to court for an extension of their arrest. Two of the five said they saw Milhem walking around the Adharat neighborhood freely both day and night while holding a weapon, and claimed they called the police. The testimony would seem to indicate Milhem had no fear that he would be turned in by the residents.
Police sources said that the manhunt in the Tel Aviv region was continued even after it was learned that Milhem fled to the north, so as to mislead the terrorist.
"It was clear that he was in the (Wadi Ara) area, but we waited until we knew the precise location," said police sources, adding that the estimation is that "he arrived in Arara with the help of one of the residents."
Mourning tent for the terrorist
Several of Milhem's family members, including his father who previously volunteered with the police and had a license for an automatic weapon, have already been arrested on suspicions of having aided him in fleeing and hiding.
Milhem's body is currently being held by the police, and meanwhile at his family home has a mourning tent has been set up to grieve for the murderer.
The family decided to hold a small funeral for the terrorist, with one family member saying that after the manhunt the family is "exhausted," and asking "also from the Arab population to understand that it (the funeral) is reduced."
The worrying wide level of cooperation that Milhem received will for many again raise questions about the loyalty of Arab citizens of Israel. Last November, a poll found 57% of Israeli Arabs feel the radical Islamic Movement in Israel that is funded by Hamas represents them faithfully, and 18.2% of Arab Muslim citizens of Israel said they are not ashamed of Islamic State (ISIS), and do not view it as a terrorist organization.
On Friday morning the police received information on Milhem's location thanks to the interrogation of the suspects thought to have provided him with aid, as well as by using advanced technology and intelligence sources in the field.
Milhem was a crafty terrorist. It was revealed that he threw away his phone to avoid detection before gunning down Israelis at a pub on Dizengoff Street in Tel Aviv, murdering two and wounding several others.
Last Thursday police revealed he disabled the cameras of a taxi he took after the attack, before shooting the driver dead; the driver's body was found an hour after the initial shooting.
Back in July 2007, Milhem was convicted of attacking a soldier with a screwdriver and attempting to steal his gun at Karkur Junction to the east of Hadera, with police officers who guarded him in jail expressing their shock that he was ever released.