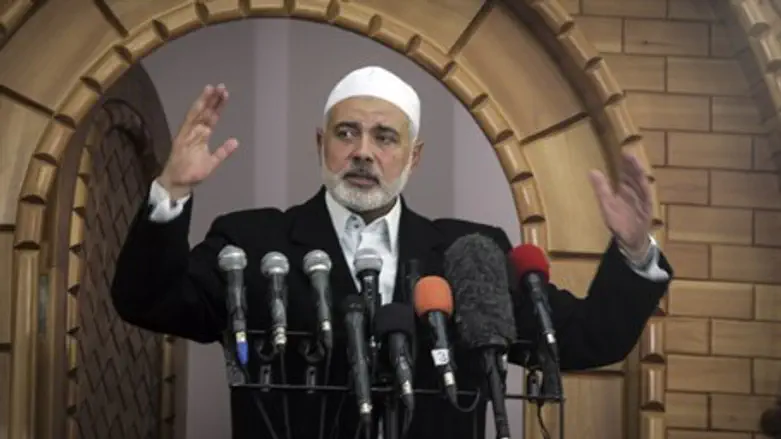 Hamas head Ismail Haniyeh
Abed Rahim Khatib/Flash 90
Senior Hamas leader Ismail Haniyeh continued to threaten Israel on Thursday, declaring in a speech in Khan Yunis that Hamas will never back down from its goal of controlling all of what it considers "Palestine", and urging Palestinian Arabs to continue attacking Israelis.
"Hamas will not accept a solution apart from Palestine on all the land from the river to the sea," he said in the speech, excerpts of which were quoted by NRG/Makor Rishon. "We are building the power underground and above ground. Behind enemy lines. On the earth, sea and sky."
"We are building the power here that will surprise the world, not just to defend Gaza, but to liberate Jerusalem and liberate the Al-Aqsa Mosque and to free all of Palestine," said Haniyeh, whose relatives have in the past received medical treatment in Israeli hospitals. "The building of power here in Gaza is part of the strategic plan of our people."
The terrorist leader added that "we will not allow for the intifada, that the Palestinians are carrying out against military personnel or civilians since October in the West Bank and Israel and has reached its 100th day, to be brought down."
Haniyeh in his speech also praised terrorist Nashat Milhem, who remains at large a week after murdering three people in Tel Aviv last Friday.
"We do not know where he is but he is embarrassing the Zionists and making history," Haniyeh said of Milhem and added, "He's a hero who sowed the seed of death in the streets of Tel Aviv and brought life to our people."