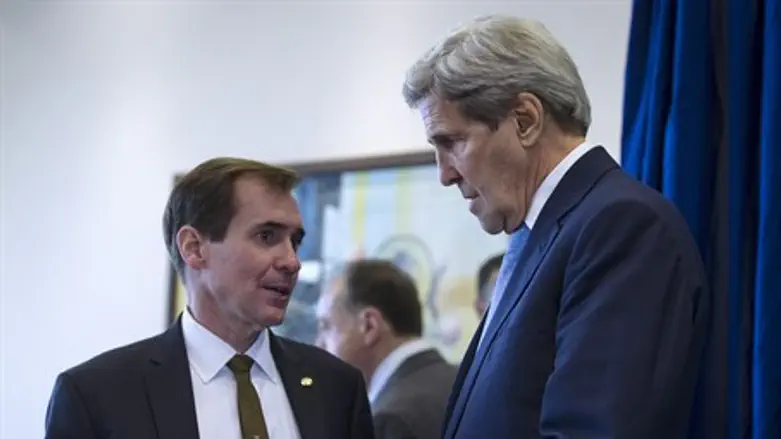 John Kerry, John Kirby
Reuters
US State Department spokesman John Kirby rejected out of hand Wednesday a comparison between an Israeli bill requiring foreign-funded NGOs to declare their sources and US laws mandating the registration of foreign interest lobbyists. 
In an op-ed published by the Jewish Telegraphic Agency on Monday, Justice Minister Ayelet Shaked drew parallels between her Government Transparency Law and the US Foreign Agents Registration Act dating back to 1938. 
According to that US law, individuals representing the interests of foreign powers in a "political or quasi-political capacity" must make public all ties with those foreign states, including its sources of funding. This is similar to what Shaked's law seeks to do, by requiring all NGOs who receive more than half of their funds from foreign states to disclose their sources of funding and identify themselves as "foreign agents" when lobbying MKs.
"A strong democracy cannot suffice itself with defending its physical borders alone, since threats to sovereignty are not always confined solely to tanks invading fields and cities," she writes. "Sometimes the real threat lies in the interference in another country's internal affairs."
Shaked stressed that like the US before it, Israel is interested in the "identification of...foreign interests," noting that her bill's requirements "do not impose any restriction" on the NGO's activities and are also "much less stringent than those imposed by the US."
Kirby dismissed Shaked's comparison, saying, "They're two different things altogether." He did not elaborate on the so-called differences. 
The spokesman did note, however, that since the Israeli cabinet approved the bill, US officials have raised concerns about the dangers it may pose to, in his words, a "free and functioning civil society."
The Obama administration has been gunning for the bill since last May when it sent a message to Israel warning such legislation would harm the democratic character of Israel as well as efforts to promote a two-state solution.
It has recently found an ally in the American Jewish Committee (AJC) who has also expressed concern over the bill. 
"The proposed solution poses as many risks as the problem itself, including the risk Israel's reputation as a confident and open society that has long been true democracy's sole Middle East outpost," the AJC said in a statement Tuesday.