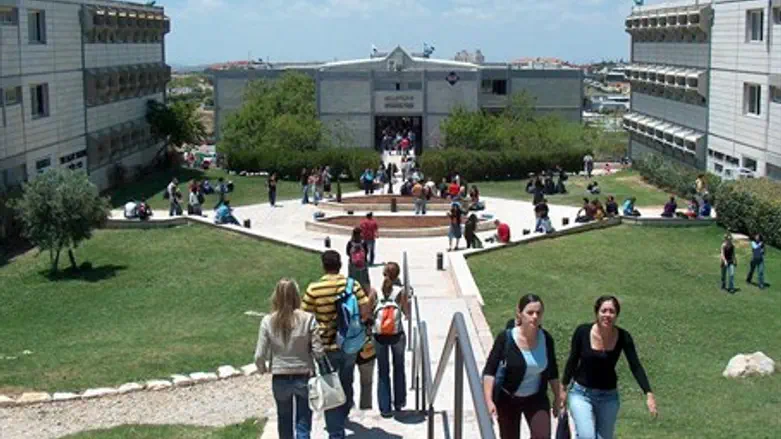 Ariel University
Ariel University Center
Ariel University in Samaria has been given 430,000 shekels (just over $100,000) in compensation by the Spanish government, after Spain refused to allow the university's students to take part in an international competition.
It happened six years ago, when the Spanish government gave in to pressure from the BDS movement that seeks to boycott Israel. Spain refused to allow Ariel University students to take part in a competition to design "green" environmentally-friendly buildings, which was meant to be open to students from all universities worldwide.
Ariel University students reached the finals of the competition with their design, according to Yedioth Aharonoth.
Their design, entitled "Abraham's Tent," garnered great international interest, but the boycott movement began working overtime to have the students banned from the competition for the simple fact that they study in Samaria.
Eventually the anti-Israel activists succeeded, and even though the Israeli students had arrived in Spain in order to take part in the finals, they were informed by the Spanish construction ministry that funded the competition that they were being banned.
The University responded by petitioning the decision via an attorney in Spain, suing the Spanish government for compensation and demanding that the students be allowed to return to the competition.
The Spanish construction ministry reportedly tried to fight the petition, but after realizing they were going to lose embarrassingly, they decided to admit that they had discriminated against the students and the university and offered to pay 430,000 shekels in compensation. That amount was recently transferred to the university.
Yigal Cohen-Orgad, president of Ariel University, told Yedioth Aharonoth that "the decision to compensate the university and to declare the removal (of the students) from the competition as 'nullified and illegal' is the required, ethical and legal response to the attempt to boycott Israel."
He added that the about face "proves that it is possible to succeed in thwarting these attempts."