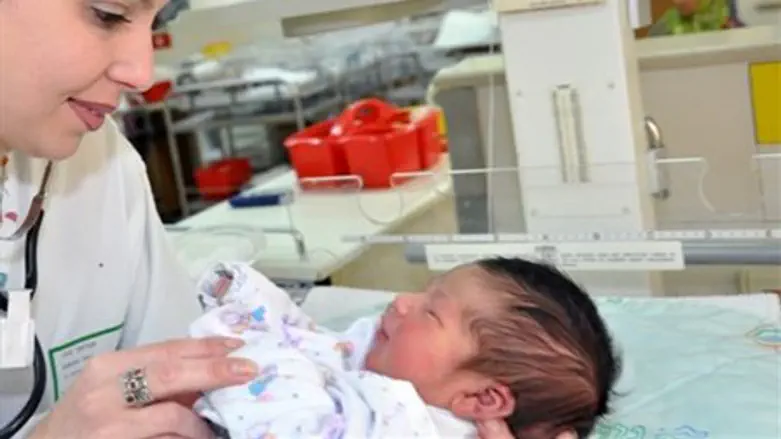 Some 176,700 babies were born in 2015 (illustration)
Soroka Hospital
According to estimates by the Central Bureau of Statistics, as of December 31, 2015, the population of Israel stands at 8.462 million people. 
An approximate 6.335 million people are Jews, making up 74.9% of the population. Arabs make up 20.7% percent of the population, with an estimated 1.757 million people. 
Another 370,000 Israeli citizens do not fall into either of these two groupings. 
Israel's population grew by two percent in 2015. Approximately 176,700 babies were born - 74% of them Jewish, 23% of them Arab and another 4.4% other. 
In addition to births, some 28,000 new olim arrived in Israel throughout the past year. 
Israel's newest citizens arrived mainly from France with 25% of all total new immigrants, Ukraine with 24%, Russia with 23% and the United States with 9%.
Another interesting finding published by the CBS on Thursday shows that the fertility rates of of Jewish and Arab women in Israel have leveled out over years, as seen in the graph below:
That statistic echoes similar findings earlier this year, which showed a steady decline in Muslim population growth in Israel.