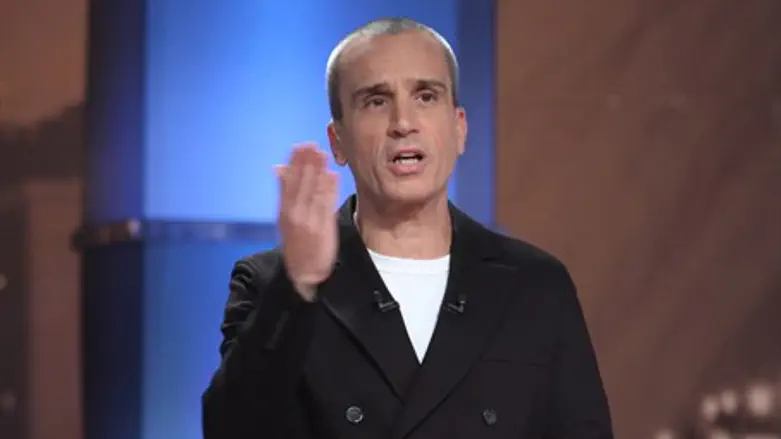 Avri Gilad
Oren Nachshon/Flash 90
Israeli journalist Avri Gilad on Tuesday credited the late Minister Uri Orbach for changing his worldview from the left to the right.
Gilad and Orbach were, for many years, co-hosts of a show on Army Radio called "Hamila Ha'acharona" (lit. "The Last Word") which pits a leftist and a rightist journalist against one another for one hour daily.
Speaking at a meeting with students and faculty at the School of Communications at the University of Ariel, Gilad was asked what influenced him and helped change his views, and he replied: "A lot of it was a result of the weekly meeting with Uri Orbach and Jacky Levy when we hosted 'Hamila Ha'acharona' together. We would talk for two hours a week, and [Orbach] would embarrass me time and time again, and that caused me disappointment."
Gilad continued, "It made me feel that I was reciting the left's positions like a puppet reciting empty messages. I learned that if I cannot truly defend my position, I guess I'm not really standing behind it."
Asked about his position today, he said, "I'm not a rightist, but what I took from Uri Orbach is the understanding that the positions of the left are childish. A little boy facing a problem wants a solution here and now, but there comes a time when a reasonable person must say 'I tried, there is no solution at this time, and we have to live with that'. So even though we are paying a price for the continued occupation in the form of our society becoming more violent and so on, if I have to choose between dying and being violent, I choose violence. However, I certainly hope there will be a change in the future."
Asked whether he paid a price for his changed political opinion, Gilad replied, "I lost some good friends following the change. In addition, I began to be regularly defamed by Haaretz, but I take that as a compliment. When somebody curses rather than responding in a businesslike way, it makes me realize that I was right."
"Today there is blind leftism in the established media, and it bothers me," he continued. "It is very noticeable that there is editing tainted by political considerations. However, the media is now changing in front of our very eyes because the public is making its voice heard."
Asked about the recent rightist campaign against the leftist NGO "Breaking the Silence", Gilad replied, "I think I can take some credit as a signatory to the current campaign against them. I attacked them on my shows on Army Radio, Channel 2 and Channel 20, and I wrote a post on Facebook against them which received many likes and many shares."
"I despise them, despite the fact that I supported them at first," he continued. "I think it's a shell-shocked organization that is looking for a cure for their pain in foreign fields. Their choice to lie and take things out of context contributes to the demonization of Israel."