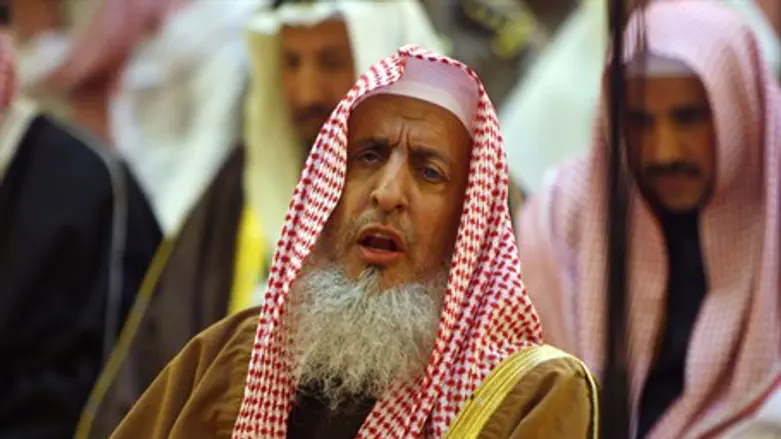 Saudi Grand Mufti Sheikh Abdulaziz Al-Asheikh
Reuters
Sheikh Abdulaziz Al-Asheikh, the Grand Mufti of Saudi Arabia, issued a whopper of a conspiracy theory on Monday, claiming that Islamic State (ISIS) jihadists are actually "Israeli soldiers."
Speaking to the Saudi Gazette, Asheikh said ISIS members are "harming" Islam and Muslims.
"They cannot be considered as followers of Islam. Rather, they are an extension of Kharijites, who rose in revolt against the Islamic caliphate for the first time by labeling Muslims as infidels and permitting their bloodletting," said Asheikh.
The Grand Mufti then spoke about ISIS leader Abu Bakr al-Baghdadi's threat against Israel made in an audio recording on Saturday, in which al-Baghdadi said, "Palestine will not be your land or your home, but it will be a graveyard for you."
"This threat against Israel is simply a lie. Actually, Daesh (ISIS) is part of the Israeli soldiers," claimed Asheikh.
Ironically Jürgen Todenhöfer, the only Western journalist allowed into ISIS territory, reported this week that the jihadists revealed to him during his 10-day stay among them that the IDF is the only army they fear.
Asheikh's claims echo those made by the Iranian semi-official Fars News Agency back in October, when it claimed an IDF colonel had been captured fighting for ISIS in Iraq. The conspiracy theory was patently false, not least of all from the absurd dog tag number the paper listed for the supposed soldier.
Iranian officials have long claimed Israel and the US created ISIS, with Brig. Gen. Mohammad Reza Naqdi, head of Iran's Basij paramilitary force, just last month claiming Israel was behind the lethal Paris attacks, as opposed to ISIS. Asheikh's comments would seem to show that while Iran and Saudi Arabia are fierce Shi'ite-Sunni rivals, they unite in blaming Israel for ISIS.
While ISIS is an enemy, rather than a tool, of Israel, the brutal jihadist group does have support from a large swath of Israel's Arab population.
ISIS supporting terrorists have on a number of occasions tried to attack Israel from within, including several homegrown ISIS cells.
A poll last month found that 18.2% of Arab Muslim citizens of Israel do not consider ISIS to be a radical terrorist organization, and that they are not ashamed of the brutal jihadist group. That figure jumped to 28.1% among Arab citizens who are supporters of the radical Islamic Movement in Israel.