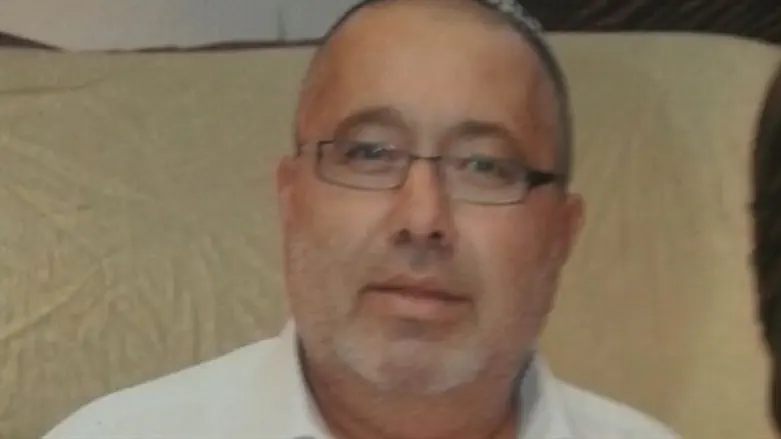 Avraham Hasno
Courtesy of the family
The bereaved widow of Avraham Hasno, who was brutally murdered by an Arab terrorist in mid October, issued a statement on Sunday night, criticizing the way Jewish suspects from the lethal Duma arson in July are being allegedly tortured while Hasno's murdered walks free.
Hasno, a resident of Kiryat Arba who was recognized as a terror victim in early November, was lured out of his car by an Arab rock ambush, at which point an Arab truck driver ran him over and murdered him.
An Arutz Sheva analysis of photographic evidence of the incident reveals the driver, who turned himself in to Palestinian police claiming it was an accident, ran over Hasno at least twice in cold-blooded murder. Arab residents cheered and whistled as paramedics unsuccessfully tried to save the victim's life.
"The murderer of Avraham (Asher) hy''d is walking around free in Hevron while the Shabak (Israeli Security Agency) is busy with youths suspected in the Duma arson, instead of being busy searching for the terrorist who murderered Avraham," wrote Hasno's widow Ruti.
Responding to reports claiming the murderer turned himself in and is in a Palestinian Authority (PA) jail, she said, "why don't they say where the murderer is?"
"I'm sure he's out now. They said he was released from the prison of the (Palestinian) Authority and was arrested again, but I don't believe that at all."
She called for concerned people to spread the message on social media, to make it known that for the authorities, "the importance of the lives of Jews does not have precedence, but rather the lives of Arabs (does)."
"We have to make noise! Avraham is more important than any Arab!," called the bereaved wife. "Let them leave the youths alone and search and catch the despicable murderer."
"Two and a half months have passed since the awful murder. Avi (Hasno) was deprived of his life because he was a proud Jew, and the state, which is the state of the Jews, is treating the incident like something routine. Every day passes and there's a new terror attack, the problem is that it has become routine."
Decrying the injustice in the case, she noted, "some of the attackers were caught, some were killed - Avraham's terrorist was left free in Hevron. Jewish blood is not worthless blood."
"In these past two months I haven't heard a single word from members of Knesset or from security sources regarding Avraham's despicable murderer. We won't let this pass! Jewish blood is not abandoned!"
Ruti called for Israel's death penalty to be applied to the murderer, saying, "I want them to kill the murderer, so that other terrorists won't be able to release him."