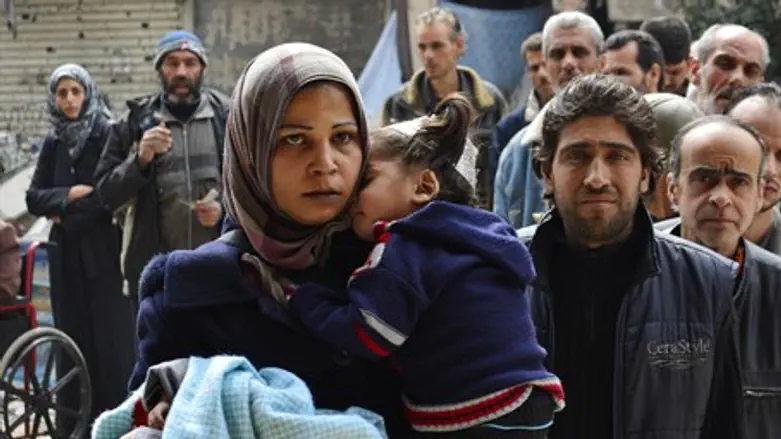 Yarmouk residents queue to receive humanitarian aid
Reuters
Hundreds of families of Islamic State (ISIS) jihadists and some injured fighters are expected to leave rebel-held areas of southern Damascus under a UN-brokered deal, including the Yarmouk neighborhood, Reuters reported on Thursday.
Yarmouk, which is referred to as a "Palestinian refugee camp", had been besieged by government forces since 2013 before being stormed by ISIS.
Syria's minister for national reconciliation, Ali Haidar, told Reuters that efforts were under way to get militants out of Yarmouk but gave no details.
A UN spokesman told reporters in New York, according to the news agency, "The UN is an observer to the agreement concerning Yarmouk, but not part of it, which we understand should come into effect in the coming few days."
The Yarmouk "refugee camp" is in fact a sprawling neighborhood at the southern edge of Damascus. Most of the Palestinians who live there are descendants of Arab refugees from Israel's War of Independence, though few are themselves refugees. Uniquely, the UN founded UNRWA as a separate agency to its official refugee agency UNHCR in order to perpetuate "Palestinian refugee" status to all descendants of actual Palestinian Arab refugees.
No other group of refugees - including Jewish refugees from Arab states or from the Arab armies which occupied Judea, Samaria and Gaza in 1948 and expelled Jewish residents - are granted such hereditary refugee status.
There are thousands of people registered as Palestinian refugees in Israel's neighboring countries, including Lebanon and Syria. Palestinian refugees in Lebanon have limited work options and are refused citizenship.