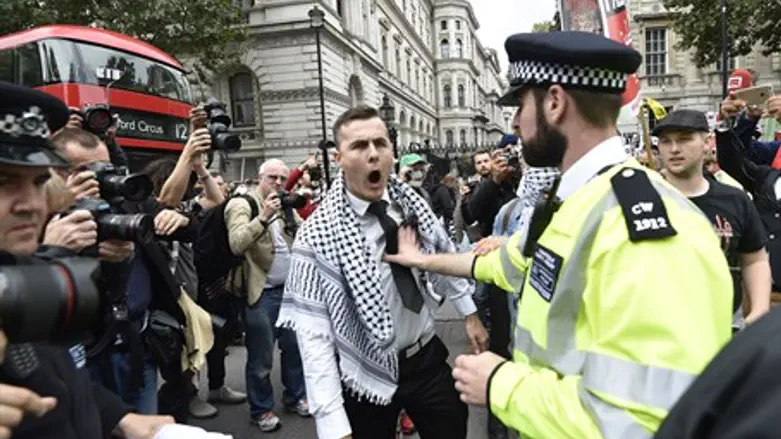 Illustration: Anti-Israel protesters in London (archive)
Reuters
A pro-Palestinian activist who carried out an acid attack against an Israeli-owned stall in Scotland has been sentenced to a year in jail.
Scott Harrison threw the noxious liquid at a woman who was manning a stall in Glasgow owned by the Israeli cosmetics firm Kedem, which activists from the anti-Israel BDS movement have been targeting in a boycott campaign.
His lawyers are filing an appeal against the 12-month sentence for assault to injury, which was handed down by a Scottish court earlier this week. He is currently being held in custody pending the results of his appeal.
Harrison's 18-year-old victim, Greek-born Iona Georgianna, told the Scottish Sun shortly after the attack on October 25, 2014, how she felt her face "melting."
"I was working and then I felt liquid on my head," she said, describing the terrifying attack. "It started to burn. It felt like my face was melting. I was screaming. I couldn't feel my lips and my vision was blurred for two or three minutes."
A quick-thinking colleague poured five liters of water on her head, saving her from the worst effects of the mystery liquid.
Although Kedem outlets throughout the United Kingdom had been targeted by aggressive and anti-Semitic anti-Israel boycotters in the past, that particular attack came against the backdrop of a massive increase in anti-Semitism spurred on by anti-Israel groups during that summer's war between Israel and Gazan terrorist groups.
Speaking to the UK's Jewish Telegraph, Glasgow Jewish Representative Council President Paul Morron - who visited the stall shortly after the attack - hailed the sentencing.
"The Palestinian cause is not helped by vicious criminality which this case represents," Morron said.
"This is the most serious of a series of cases that have arisen from criminal action against Israeli-owned stalls in the Glasgow area over the past 18 months.
"This case was particularly frightening. The stall staff acted very quickly in bathing the victim's eyes with water, but it was a very distressing experience for her.
"It shows the dangers of anti-Israel sentiment when it gets out of control. I would like to thank the police and Procurator Fiscal service for their efficiency and professionalism."