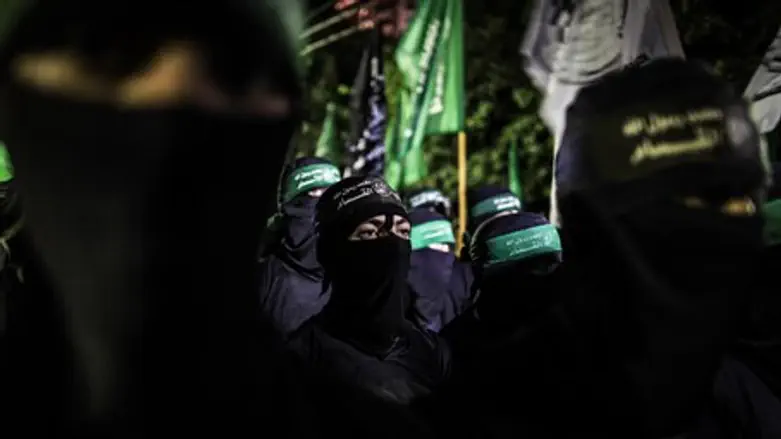 Hamas terrorists in Gaza (file)
Emad Nassar/Flash 90
Hamas officially confirmed on Wednesday that senior Hamas terrorist Salah Al-Arouri has left Turkey, Kol Yisrael radio reported.
The station quoted Hamas official Osama Hamdan, who told the organization's journal that Al-Arouri Turkey left more than two months ago.
Hamdan stressed that Al-Arouri's leaving Turkey was due to internal considerations by Hamas and denied that the move was due to pressure exerted on Hamas or at the request of the Turkish government.
Turkey expelling Al-Arouri from its territory was one of Israel's reported conditions in recent normalization talks with Turkey. Israel accuses Al-Arouri of planning several terrorist attacks against Israelis during his stay in Turkey.
The talk of rapprochement with Turkey comes after ties broke down following the 2010 Mavi Marmara incident, when elite IDF soldiers were forced to board the Turkish Mavi Marmara ship, which ignored repeated warnings to stop its attempt to breach the maritime blockade on Gaza - a blockade that is legal under international law.
The soldiers were brutally attacked by IHH Islamist extremists on board wielding knives and metal bars, and had no choice but to open fire, killing ten of the IHH members on board. After an investigation, Israeli authorities discovered the vessel to be carrying no humanitarian aid, despite the flotilla's claims that it was on a "humanitarian" mission.
Despite claims by Israeli officials last week that "understandings" were reached with Turkey on normalization, Turkish officials have played down the reports, noting that while progress was made in talks, no agreement has been reached.
Turkish Prime Minister Ahmet Davutoglu on Tuesday spoke about the rapprochement talks with Israel, saying the goal is to "benefit" Palestinian Arabs.
"Our sole goal is to bring solutions to the problems of our Palestinian brothers. This is the main objective behind our talks for the normalization of our relationship with Israel," he stated.