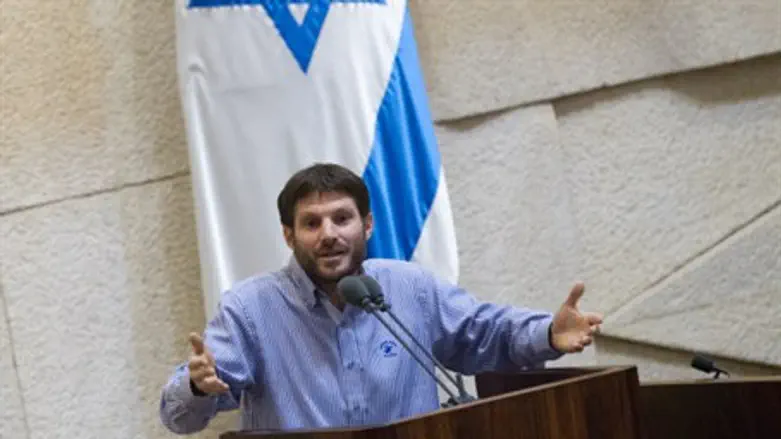 MK Bezalel Smotrich
Miriam Alster/Flash90
MK Bezalel Smotrich (Jewish Home) submitted a bill demanding that Jews be allowed freedom of worship on the Temple Mount this week, hoping to pave the way for full religious freedom at Judaism's holiest site. 
The bill effectively would demand that Israel's religious freedom laws include full access of worship to every holy site in the country with regard to all religions - including the Mount. 
While Israel technically guarantees freedom of religion, the law has a "lacuna" which "does not protect, specifically, freedom of worship and freedom of access." 
"Therefore, it is proposed to add to the current law [a clause] protecting the holy places, [allowing] freedom of worship for all religions with free and fixed access, so that this fundamental right will be defined by law and will result in freedom of worship anywhere and to anyone." 
"Freedom of worship and freedom of access of all religions to the holy places is a basic right in a democracy and is derived from the Basic Law: Human Dignity and Liberty," the explanatory note continued. "In many cases brought for judgment before the Supreme Court [...] the court emphatically spoke about the fact that every person has the right to commune with his Maker anywhere, anytime."
"This is part of freedom of religious worship, part of freedom of expression."
Five additional MKs have already signed the bill: MK Shuli Muallem-Refaeli (Jewish Home), MK Nissan Slomiansky (Jewish Home), MK Mickey Zohar (Likud), MK Avraham Nasoga (Likud), and MK Oren Hazan (Likud). 
The bill, if passed, would see a stark change to the current "status quo" on the Mount, which allows full freedom of access to Muslim and Christian visitors, but bans Jewish prayer entirely - and, recently, has also seen Jews allowed to visit for very short and specific periods of time. Israel Police have taken increasingly draconian measures against Jewish Temple Mount visitors, including arresting a man Tuesday for lifting his hands.