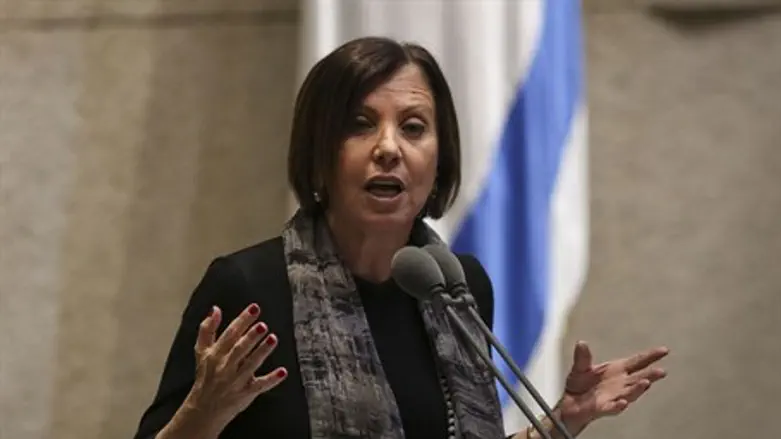 Zehava Galon
Hadas Parush/Flash 90
A new civics textbook was approved on Tuesday, despite the fierce opposition voiced by MK Zehava Galon, head of the radical leftist Meretz party.
The book was written by, among others, Dr. Assaf Malach who is head of the professional committee on civics, and was approved by Education Minister Naftali Bennett (Jewish Home).
"The civics educational program for dozens of years has dealt with the state of Israel as a Jewish and democratic state: values, principles, human rights and the government of the state of Israel," said the Education Ministry in a statement. "This policy is preserved even after the update to the study program."
"The civics study program, including the revised textbook, is meant to raise a deep and meaningful discussion in the classrooms, and to provide fertile ground for a variety of opinions on various practical topics. This program gives students an opportunity to form their personal position, while giving familiarization with the debate and the situation in Israeli society."
Israel's civics textbook "To be Citizens of Israel" was last revised in 2000. Then in 2011 the study program was updated to account for changes in Israeli society, and in accordance the Education Ministry in that same year began a long process of updating the textbook with the assistance of numerous academics and professionals.
But many of the political left have claimed the book includes "right-wing values," and even before the final approval was given to the textbook, Zehava Galon struck out in a Facebook post.
"The new book erases the democratic identity of the state and completely subjugates it to the Jewish identity," she claimed.
Galon said that in a debate in the Education Committee, "I demanded that the Knesset immediately stop the publication of the book until a new committee is formed to examine it, and (the committee) will not just be made up of Naftali Bennett's friends."
"We are under attack. The 'foreign agent' campaign by Im Tirtzu and the frightening incitement that the government is leading against human rights groups are only one front," said the MK, noting moves against radical leftist groups such as Breaking the Silence which has been documented accepting false testimony to slander the IDF.
"An additional front, which is a lot more quiet and dangerous, is the moral corruption of the education system and the declaration of war against all that we believe in - pluralism, secularism, equal rights for all citizens of Israel, freedom of religion and freedom of conscience," claimed Galon.