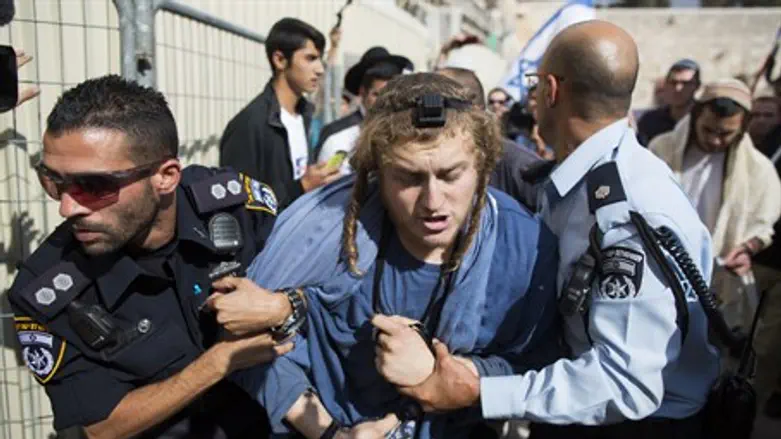 Police arrest Jewish protester at Temple Mount (illustrative)
Yonatan Sindel/Flash 90
A prominent Jewish Temple Mount activist was arrested on the holy site Tuesday morning, after Muslim and police officials claimed he broke the strict rules governing Jewish visits to the site - by lifting up his hands.
Police say Yehuda Etzion lifted up the palms of his hands in an act of surreptitious prayer during the visit, which took place to mark the Fast of the Tenth of Tevet. Non-Muslims are forbidden from praying at the site due to Muslim threats of violence, and Jews in particular are closely monitored by police and members of the Waqf Islamic trust which administers the site, to ensure they do not do so. This, despite the fact that the Temple Mount is the holiest site in Judaism.
Another Jewish visitor was arrested along with Etzion, for allegedly cursing Waqf guards.
Attorney Rehavia Filtz of the Honenu legal rights NGO said that according to Etzion, he had his palms raised for a considerable period of time during the visit, when a police officer asked him to accompany him off the Mount. When Etzion asked if he was suspected of any crime the officer declined to respond, and he therefore refused to leave. At that point, four officers forcibly removed him from the site.
The two men were briefly held by police before being released. Jerusalem District Court will tomorrow decide whether to grant police their request to distance the pair from the Temple Mount for a period of time - a measure often used against Temple Mount activists.
"It is very serious that the Israel Police is allowed to curse, insult and disrupt Jews visiting the Mount on the fast day marking the start of the destruction of the Temple, and on the other hand picking on Jews based on such infantile charges."
Jewish Temple Mount groups have repeatedly complained over the gradually-increasing draconian measures against Jewish visitors on the Temple Mount, saying the police's policy is one of blatant anti-Jewish discrimination.