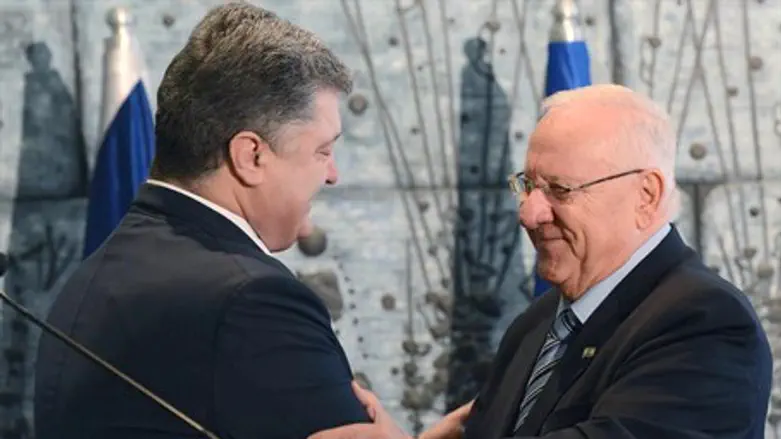 Ukrainian President Petro Poroshenko (L), Rivlin
Mark Neyman (GPO)
President Reuven Rivlin hosted an official welcoming ceremony for President Petro Poroshenko of Ukraine Tuesday morning, who is on a state visit to Israel.
The Presidents stood together for the national anthems, inspected an honor guard of the Israel Defense Forces (IDF), and delivered brief media statements before going on to hold a working bilateral meeting.
"In the Ukraine, we remember a long history, a history of one thousand years of Jewish life in the cities and towns of the Ukraine; in Kiev, in Odesa, in Lvov - and even in the imagination of the great Shalom Aleichem, in the little town of Anatevka," Rivlin began.
"Life that was almost totally wiped out by the Nazis who wanted to destroy Jewish life, and the Jewish people. We also know however, that from these great, beautiful cities came the seeds of hope who rebuilt Jewish independence."
The President thanked the Ukrainian President for his country's decision to return Torah scrolls and other Jewish artifacts which were taken over time.
"This is a sign of our good relations and should be just one step, in the strengthening of these ties," he said. "Our future depends on us, learning the lessons of the past, and we must condemn together all forms of hatred and racism."
He concluded, "Today, Ukraine and Israel enjoy wonderful progress and cooperation - in education, medicine, culture, and in economics, where our trade has grown from strength to strength."
Mark Neyman (GPO)
President Poroshenko thanked the President for his warm welcome. 
"I have arrived as a president of a country, which every single day wins back its independence, its sovereignty, and its territorial integrity," Poroshenko said. "Although our stories are different we have many similarities, one of which is about building up a successful state against turbulent regional realities, and under continuous attack from terrorism."
"That is what we are doing in the Ukraine these days, and that is what you are doing in Israel for many years now."
He praised the resilience of the Israeli people over the years.
"I have always admired the faith and determination of the Israeli people, and we can learn a lot from the Israeli people's bravery and patriotism, and the way in which the Jewish people have built up their country," he stated. "Titanic efforts have been made to raise the country from the ashes, and save its culture and traditions."
"Since its independence, your country has faced serious external military threats, in spite of which you have undergone a remarkable transformation," he continued. "You have propelled Israel to the top in the science, the economy, in military power." 
"Your country stands united, and my country is on a similar path and the same stand. I see my visit to Israel has an opportunity to endorse unbreakable bonds between our nations, and exchange with you about common challenges and ways to overcome them."
"So as I begin this visit, I declare that Ukraine stands with the State of Israel."
Mark Neyman (GPO)