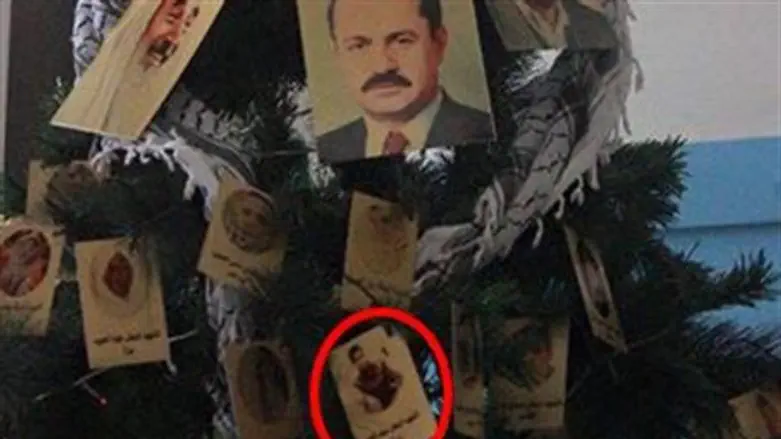 Fatah students' Christmas tree
Palestinian Media Watch
After Al Quds University in eastern Jerusalem unveiled its "martyrs tree" earlier this month, the Fatah student movement Shabiba on Thursday decided to get in the holiday spirit of Christmas and terror as well.
Shabiba, of Palestinian Authority (PA) Chairman Mahmoud Abbas's Fatah faction, inaugurated its own "martyrs tree" at Birzeit University near Ramallah, Samaria, on Thursday.
The Christmas tree was decorated by the student movement with the pictures of leading terrorists from over the decades, as revealed by Palestinian Media Watch (PMW) on Thursday.
Joining the ranks of terror "heroes" was Muhannad Halabi, who stabbed and murdered Rabbi Nehemiah Lavi and Aharon Bennett in Jerusalem's Old City on October 3. The murderer also wounded Bennett's wife Adele and their two-year-old infant son.
Halabi's likeness joined more senior "martyrs" on the Fatah tree, including arch-terrorist Ahmed Yassin who founded Hamas, Islamic Jihad founder Fathi Shaqaqi who was behind over 1,000 terror attacks that murdered around 150 people, and Abu Ali Mustafa who was secretary-general of the Communist Popular Front for the Liberation of Palestine (PFLP) that rejected the 1994 Oslo Accords.
At the top of the tree was a picture of Palestine Liberation Organization (PLO) founder and arch-terrorist Yasser Arafat, who served as PA and Fatah chairman. The tree was decorated with a PLO flag at the top, with Arafat's traditional kheffiyeh wrapped around it in the shape of a laurel.
Muhannad Halabi in red circle Palestinian Media Watch
Fatah went about spreading the "holiday cheer," posting pictures of its student movement members from the tree ceremony on its official Facebook page Thursday, together with the text: "Birzeit Shabiba hung pictures of martyrs and faction symbols on Christmas tree."
Holiday spirit?
Palestinian Media Watch
A sign pictured with the students reads: "the way to freedom is a bullet and a martyr, a pen and a prisoner, an olive tree and a wounded, a crescent and a cross. Merry Christmas (Fatah) Shabiba student movement Birzeit University."
"The way to freedom is a bullet"
Palestinian Media Watch