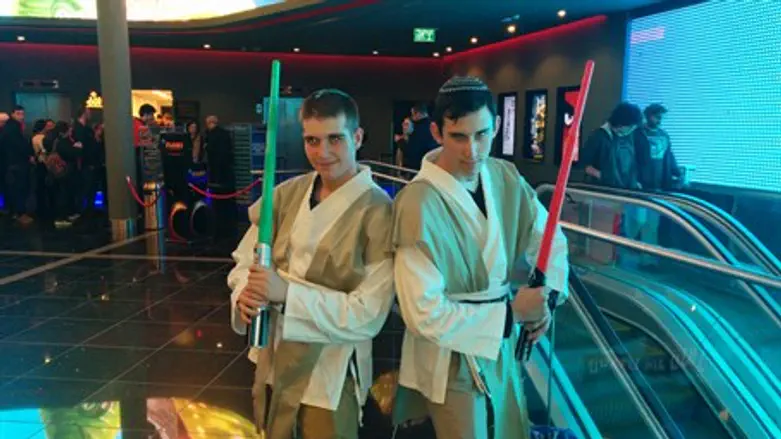 Israeli Star Wars fans at the first screening of The Force Awakens in Jerusalem
Raphael Poch
So it happened. Israel got to see Star Wars before North America. As happens with many movies that come out simultaneously around the globe, due to our 7 hour time difference and the added benefit that movies in Israel open on Thursdays instead of Fridays, Israelis will actually get a full 31 hours of viewing time prior to their North American counterparts.
I'll come back to that later. But on with the movie. And don't worry, If you are still reading I won't give away any spoilers. Promise.
Star Wars Episode VII, The Force Awakens, does give fans everything they would have wanted in a movie. The script is quite good, the story is gripping and the action sequences are fantastic. J.J. Abrams uses his particularly wonderful style of directing, (let's face it I am a fan), and for those who know cinematic direction styles, you will be able to see his hand weaving the story line together. That is if you've seen any of his recent Star Trek films, the style is the same.
This reporter went to the opening screening in Israel slated to begin at 12:05 a.m. Thursday morning at Yes Planet in Jerusalem. Sitting on one side of me was a mother and son duo who came from Beit Shemesh, behind me were a group of American Yeshiva students, and next to me on the other side were a group of friends, all of whom were big fans.
For those of you wondering, yes people did dress up in costume, with some Darth Vaders in the audience, a number of Jedi and even a woman with Yoda ears. No one dressed up in Princess Leah's costume from episode six. At least not that I saw.
Star Wars fans dress up in Israel for the first screening of The Force Awakens
Raphael Poch
As to be expected, as soon as the previews ended and the LucasFilm Logo was shown, thunderous applause exploded from the crowd. The applause returned during key scenes and sequences throughout the movie. (But I'm not saying which.)
I will give a teaser though: If someone can count the parallels that exist between the current installment and all the previous episodes, more so the good ones, they deserve a prize. They were there a plenty. But you knew that already.
What I can say is that the entire production crew from script writers to directors, to gaffers and especially the actors, all deserve a prize in making this almost forty year old fan cult applicable and exciting for a modern audience. One who may have thought that they know everything there is to know about the Star Wars Universe, but who are still in for some surprises.
Here are some of the reactions from fans: (I removed the spoilers, well 99 percent of them, so don't worry.)
Yaakov Husarsky from Beit Shemesh said in response to watching the film: "I am filled with both joy and sadness after watching the unbelievable continuation to my favorite movie series."
Adam from Jerusalem said that the movie was pretty great and that he was surprised by many of the events that occurred.
"I lost a lot of faith with J.J. Abrams from the Lost series, but this re-inspired me to have faith in him as a director," said Israeli born David from Pisgat Ze'ev. "It far exceeded my expectations."
"I had a lot of high expectations going into this movie, now that Disney took it over," said one fan who wished to remain nameless. "The movie surpassed them all, I thought it was going to be truly awful and it was fantastic."
One family that came to see it said they felt that the movie was great, and that it was even better that they could see it before their friends in North America.
David from Jerusalem added, "the graphics were superior, the story line was great and the film adapted itself well to a modern audience and brought the story into a new era."
Michael who was there with his wife Dena added that "I feel it was a great movie, the characters were good and the script was good, but I feel that it was missing a bit of the soul from the first three movies.
Dena chimed in and said that "likely nothing will beat episodes four, five and six" for her husband, but she really appreciated the lead female character.
"It was definitely worth it to stay up until three a.m. for this movie. There were so many quotes and parallels from previous movies, I don't know how Abrams will pull together episodes eight and nine, but I am sure he will do a great job. This movie was candy for Star Wars fans." said Charles from Modi'in.
Richie from Jerusalem said that "the excitement in the room couldn't be contained."
The movie is highly recommended from this writer for Star Wars fans, and for J.J. Abrams fans. Seeing it in IMAX may give you a bit of headache, but the 3D effects are certainly worth it for this film.