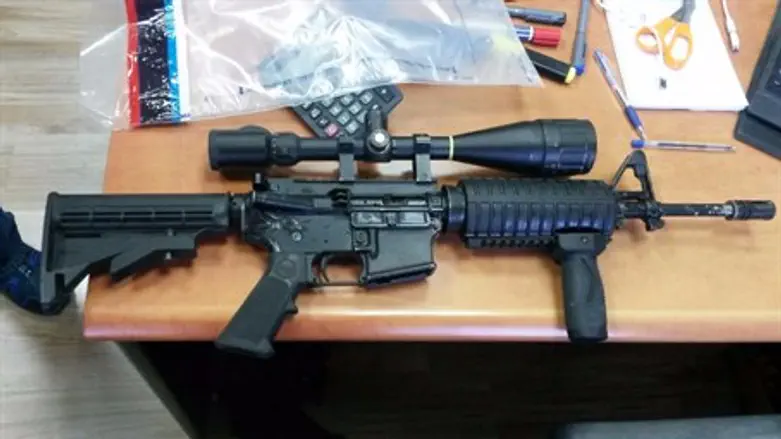 One of the weapons seized by the agent: a stolen M-16 assault rifle
Israel Police
An undercover haredi police officer single-handedly busted drug and gun-running networks in two of Israel's major haredi communities.
The agent, who spoke on the record but whose identity has been hidden for his own protection, infiltrated criminal networks in Beit Shemesh and Jerusalem's insular Mea Shearim neighborhood, leading to the arrests of 45 drug-dealers, gun-runners and other criminals.
After receiving reams of intelligence concerning criminal activity in those areas - neighborhoods where many residents are often hesitant to cooperate with authorities - police decided to launch an undercover sting operation to flush out and arrest the criminals.
A religious, yeshiva-educated Jerusalemite was selected two years ago for the job, which spanned 18 months of intense, sometimes dangerous work infiltrating a complex ring of Jewish and Arab criminals. He was briefed extensively and coached on all the details of the criminal underworld, including special slang and other nuances - ignorance of which could have potentially blown his cover.
Police describe the agent as "a good kid" from a religious family who prior to his mission had no ties whatsoever to any criminality, but whose dedication to the job exceeded all expectations.
He first infiltrated a criminal network in Mea Shearim, gaining the trust of a wide range of gangsters and managing to procure drugs including marijuana, hashish, ecstasy and cocaine, as well as a stolen car for good measure.
The agent also bought illegal guns from two Arab workers, who he discovered were Palestinians from the Hevron area working illegally in Israeli sovereign territory.
He described how there were two very different sides to Mea Shearim - where he himself spent much time during his yeshiva years. "The Mea Shearim of the daytime, and the Mea Shearim of the night."
Watch: Officer describes his mission (Hebrew)
סוכן סמוי של המשטרה פעל במגזר החרדי
Following his success in Jerusalem, the police force then transferred him to Beit Shemesh, where he soon uncovered another major criminal network in the majority-haredi neighborhood of Ramat Beit Shemesh.
There, he succeeded in purchasing an even larger quantity of drugs - "tens of kilos," police say - at the cost of hundreds of thousands of shekels. he also procured an array of weapons and ammunition including two Karl Gustav submachine guns, an M-16 assault rifle which investigators believe was stolen from an IDF base, and ammunition.
In total, he succeeded in incriminating 60 drug and weapons dealers, 45 of whom have already been indicted. Police say more arrests and indictments will be filed soon.
Among the suspects are two minors aged 15 and 17, and a resident of southern Israel who was allowed to study in a Jerusalem yeshiva as an alternative to jail time for drug offenses.
Police have hailed the agent's incredible dedication and bravery, and in a special ceremony Tuesday Jerusalem Police Chief Menashe Edri night awarded him with his police badge and personal firearm.
"We are talking about a very complex investigation, in areas which are hostile and suspicious towards the police," Edri said.
"The agent's professional training by experienced detectives, along with the agent's ability to learn, resourcefulness and faith in justice, helped incriminated 60 suspects and distance them from the general public, for the sake of the security of the residents of the Mea Shearim and Ramat Beit Shemesh neighborhoods, and the residents of all of Jerusalem."
The agent himself responded with humility, thanking "all those who accompanied me throughout this period."
He added that he was confident his actions would bring a greater sense of peace and security to the law-abiding public, and added that his identity as a religious Jew in great part motivated him to undertake such a dangerous mission.
"As it says in the book of Devarim (Deuteronomy): 'And you shall purge the evil from your midst.' I hope that we will learn to do good and purge the evil from among us for a better society."