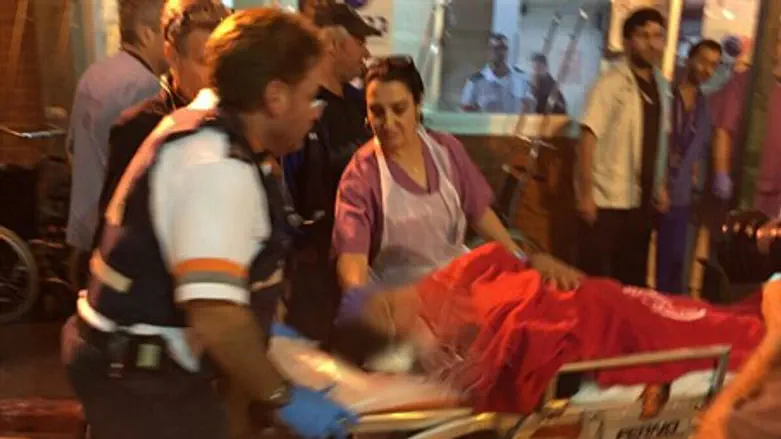 Treating wounded in terror attack (Illustration)
Magen David Adom
A decision by the ethics office of the Israeli Medical Association (IMA) raised a furor on Wednesday morning, after the body called to first treat the most wounded person at the scene of a terror attack - even if that person is the Arab terrorist who committed the attack.
The new orders, which bring to mind controversial statements to the same effect in October by Magen David Adom (MDA) director Eli Bein, were revealed by Israel Hayom and call for victims not to be given precedence over assailants.
Rabbi Yuval Cherlow, the ethics chief for the Tzohar rabbinical organization and a member of the Helsinki Committee for medical ethics, slammed the decision, as did Yisrael Beytenu chairman MK Avigdor Liberman.
The rabbi called the decision an enormous mistake, saying the victim should always be treated first at the scene of a terror attack.
He noted that only in unusual circumstances in which it is impossible to determine who was the terrorist and who was the victim should preference be given based on the severity of wounds.
Liberman on Facebook wrote: "I call on the heads of the Medical Association to step down in light of the embarrassing decision they made, according to which the most seriously wounded person should be treated first - even if they are the terrorist."
"This is an inhumane decision, which testifies that those who made it simply don't live in reality," said the former foreign minister. "This is a decision that completely lacks consideration, and is mere confusion, a loss of any moral compass."
Liberman concluded by saying, "doctors must raise an outcry against this decision and change it."
In making the decision, IMA ethics office chairperson Dr. Tami Karni claimed that "doctors aren't judges. Leaving the order (to treat victims first - ed.) means the doctor needs to investigate who is guilty and to punish him by not giving treatment. In multiple-wound events it is very easy to make mistakes in identification, and it is clear that a doctor treating wounded in the field can't precisely identify the wounded."
Doctors at terror scenes "must be focused on saving the lives of as many people as possible. It is not right to add to the tasks of the doctor also sorting criterion that are not related to the health of the wounded," said Karni.